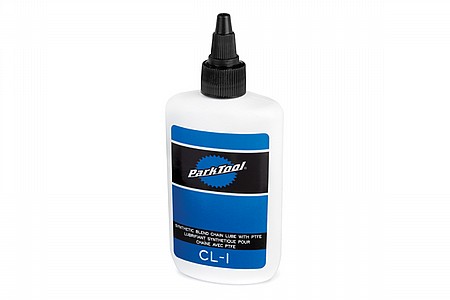 1 of 2 customers found this review helpful.
Top Drawer Cain Lube
I have had it on and it quiets my drivetrain and makes my rides more easily enjoyable! I change it out every 75 miles which for me is every theee days. Could not be happier!
Thank you for your feedback.
6 of 6 customers found this review helpful.
Ooey-Gooey but does the trick during wet Oregon Winters
I've been trying all kinds of chain lube and think the Park lube works best in the wet Oregon Winters. I've tried others that were the the consistency of honey and they were a bit of a mess. However, the Park lube is sticky but doesn't get splatter all over the frame and make a mess. It's a nice compromise because it sticks without making a mess.
Thank you for your feedback.
Cycling Enthusiast
BWI Maryland
7 of 7 customers found this review helpful.
My best choice for chain lube
I tried several products. I found Park Tool CL-1 the best for my needs. I lube between once a week to once a month. The dry or wax lubes need too much attention. The thin lubes also need to be applied far to often. This product is an exceptionable maintenance cycle (fuss factor) to make CL-1 my choice.
MY lube cycle, I clean the chain with a rag and an old tooth brush to get all the road dust off the chain. I next apply lube to each chain joint (one dot of oil on each side). Spin the chain around several times to work the oil in and the clean off any lube on the outside of the chain. Don't forget to wear gloves.
Lee
Thank you for your feedback.
Competitive Racer
Niagara Falls, Canada
Cycling Enthusiast
Rutland, VT
4 of 4 customers found this review helpful.
I have recently-reinforced confidence in this product, and will continue to use it for serious, long rides.
I attended a bicycle mechanics course in Oregon, in which I was instructed in the use of many different tools and supplies. I used this chain lubricant prior to my paricipation the Ride the Rockies event in June, 2012. The bicycle was borne on a roof-top carrier for the drive from VT to CO. When I arrived at the start of the ride in Gunnison, CO, I found the bike to be in top condition for the 400 mile () ride, and all went well. Among the many preparative measures I undertook, I consider the chain lubrication to be among the most important, and (in retrospect) one of the most beneficial, attributable to this Park Tool Chain Lubricant.
Thank you for your feedback.