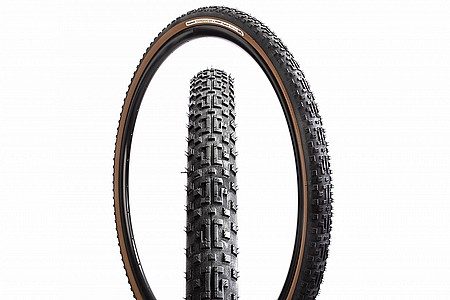 Competitive Racer
Boston, MA
1 of 1 customers found this review helpful.
Very good gravel tire
These replaced a pair of Challenge Gravel Grinder Race tires for gravel, dirt road and mixed terrain rides, so comparing to those. I got the 700x38 mm with tan sidewalls
Pros - Running these tubeless on Stan Grails and hooked up well, even after multiple moves (tried to put them on tubeless Mercury wheelset, but nothing runs tubeless on those wheels). After about 500 miles, they are wearing well with little tread wear. They provide good grip and don't collect mud in the tread. They have also been tough on rocky, rooty New England trails. They also look nice with the tan
Cons - higher rolling resistance than the Challenges so being on pavement more of a chore. Also, just a quibble, sidewall markings are hard to read
Thank you for your feedback.
3 of 3 customers found this review helpful.
Perfect for the mud I bought them for
I ran these for Landrun 2020 and they were an essential part of the kit that got me across the finish line. They cut through the Oklahoma mud, gripped well when I needed them too and didnt build up too much. Extremely happy that I ran those tires for the race and happy with the way theyve worked on non-muddy gravel roads
Thank you for your feedback.
Cycling Enthusiast
North Bend, WA
3 of 3 customers found this review helpful.
Good traction, but fragile in PNW mixed conditions
I ran these for about 1K miles in size 38mm in a variety of conditions in the PNW, primarily Forest Service gravel and dirt roads of varying quality, plus some local dirt and root singletrack. I used them tubeless with Stan's sealant. While they provide good traction in nearly all conditions, I found the sidewalls to be pretty fragile. I had to retire them after the rear tire would no longer reliably hold air pressure after suffering many cuts that the Stan's sealant could not effectively seal. I tried gluing the worst of the cuts, but that did not help much.
If you are riding on primarily loose gravel and dirt doubletrack without rough granite or sharp shale, these may work well.
Thank you for your feedback.
Competitive Racer
Penngrove, CA
PANARACER GRAVELKING EXT+ 700C TIRES are an excellent value
I bought these tires for my wife's Topstone gravel bike. I found that they mounted easily and sealed up well with Stan's sealant. She reports that they hook up well on the rockier sections of the fire roads on the lower part of Mt. Tamalpais in Marin County, CA. We are pleased with them and would buy them again!
Thank you for your feedback.