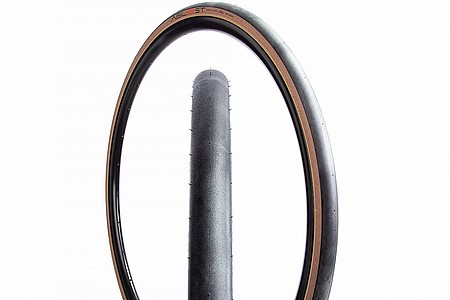 Cycling Enthusiast
Tampa, FL
2 of 2 customers found this review helpful.
I love this tire
I do 20 mph rides with a group, about 25 miles. No racing. These tires are perfect. No flats, good adhesion, roll nicely, look good on my custom steel bike.
These are the tires I had been begging IRC to make for 20 years, since they discontinued the IRC Triathlon kevlar. Smooth tread makes sense for bicycles. Strong casing makes sense. Light weight makes sense. Easy to mount on my Velocity rims. Made in Japan high quality construction.
IRC did not answer my prayers, but Panaracer did. Thanks guys!
Thank you for your feedback.
Cycling Enthusiast
North Idaho
The tires look very good out of rhe box and mounted up straight and true on my carbon rims
As an older ex-roadracer i dont hammer stuff to dealth anymore and i look for good ride quality and durability for maximum enjoyment.. these seem to check those boxes
Thank you for your feedback.
Beautifully made, light
The Conti Attack/Force combo I had been using was discontinued, so I'm trying Panaracer Agilest's in 23mm front/25mm rear as a replacement. Slightly lighter than the Contis, but if flats are an issue I'll try to the more flat-resistant Duro version for the rear (or both).
They mount easily, snug but not a struggle. Two differences immediately apparent: (1) can't find directional arrows, probably not needed because they have no tread pattern, which eliminates one step in the mounting process, and (2) they lack divots to show tread wear, so I guess one estimates wear by how much the tread is squared off?
Can't comment on how they ride, fresh tires always feel great to me. Will see how much mileage I get out of them.
Thank you for your feedback.