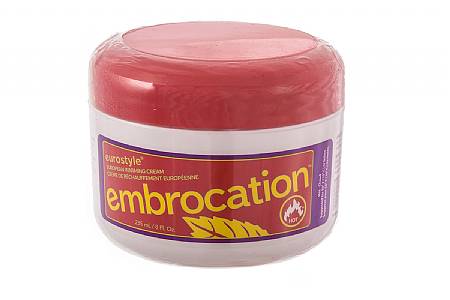 Competitive Racer
Los Angeles
1 of 1 customers found this review helpful.
Warm embrocation. Really warm!
If you are new to embrocation these cremes warm up your legs and serve as a barrier to elements. I love this stuff. Very warm but not uncomfortable. Love it on cool ride days and even on runs!
Thank you for your feedback.
Nice and hot, keeps those legs toasty during rainy NW cyclocross races!
Slather some on 45 minutes before the race and then go warm up. Wearing clothes over embrocation will accentuate the heat. Needs vigorous scrubbing afterwards to remove.
Thank you for your feedback.
Cycling Enthusiast
Portland, OR
Pretty Hot
I use this during the cyclocross season and it works great. Keeps my legs nice and warm in the worst weather imaginable. I also use it on my legs if my muscles feel particularly tight and stiff, even in the spring when it's warm. Remember, less is more and make sure to wash your hands immediately after using.
Thank you for your feedback.
Competitive Racer
Portland, OR
Hot means HOT!
This stuff works as described. I have used it for NW cross racing and rides in 40-50 degree weather with good results. It is fine when you are moving and once I am warmed up, I dont really notice the heat, just that my legs are not cold. Be warned however, the stuff is hot, once you have stopped exercising the embro keeps warming and can feel quite hot particulalry while in the shower, not unlike a mild sunburn. The label says it comes off with soap but the warming does not seem to be effected and continues to last for at least 3 to 4 hours. Be careful when putting on with white clothing as it has a little color in it.
Thank you for your feedback.