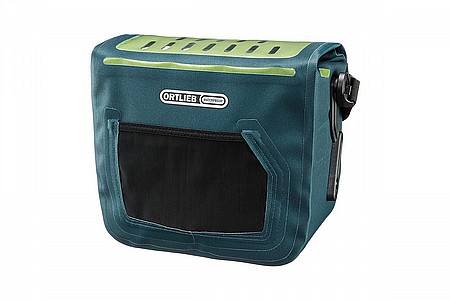 User submitted reviews
Review by JPBiker

Cycling Enthusiast

Western New York State

A near perfect handlebar bag for an E-Bike

Overall, this is a roomy bag that can hold a book or two with plenty of extra storage for small items such as a wallet, glasses, even a hat and cycling gloves. The inside pouch is handy for items that are small and frequently used. However, the zipper length is a bit short in length and somewhat restricts hand access. The bag attaches easily to the handlebar mounting-set (btw, be sure to purchase the mounting-set specially designed for E-bikes; the E-185 is NOT the correct mount for E-bikes). The light feature is interesting and provides additional exterior illumination for nighttime riding (there is no internal bag lighting, which would be handy). The bag is super strong and it looks like it will hold up to the stated weight of 11 pounds. The see through cover designed to hold a cellphone is difficult if not impossible to use. However, the top flap magnets are super strong and provide additional security for keeping the weather out of the inside and keeping items inside. Having experienced riding in rainy conditions, Ortlieb lives up to its reputation of having outstanding weather proof gear. To sum up, the bag is sturdy, roomy, weather proof, nice looking and provides needed additional storage for an enjoyable ride.

Thank you for your feedback.
Review by LoRider

1 of 1 customers found this review helpful.

Not only for e-bikes!

I have a collection of bikes, from carbon to it to chromoly. I put this on my chromoly cruiser. It's great! It's funky looking and oddly secure when you use the cable method. It hold my iPad in a case, two locks, two regular sized books, and miscellaneous small stuff, like wallet, keys. The phone on top in the window is nice. The outside pocket also helps with small accessories.

Thank you for your feedback.