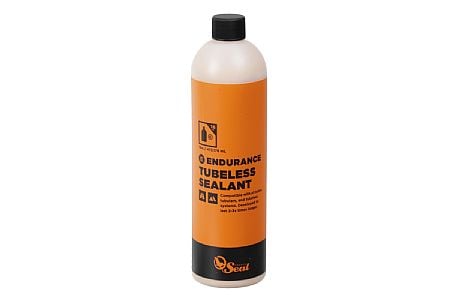 Excellent sealant
I had used stans sealant for a number of years and felt like it was the best out there. Then saw a review on the Internet that suggested orange sealant might be better. After using it in eight tires both new and old , I am convinced it is the best stuff out there. In addition a friend has given me some tips to get those stubborn to seat tires on. Taking the valve core out of the valve stem helps allow a higher volume of air to enter the tire helping the bead get pushed in and seat. Also putting a thin layer of soapy water on the bead to help at seat has worked also. And last using the orange sealant. Hope this review helps. Would strongly recommend giving orange sealant a try.
Thank you for your feedback.
Daily Commuter
Lake Forest Park, WA
Tubeless sealant that works as it should.
I have used Orange Seal for two years now on both my 29er gravel bike with 2.3 tires, on my winter commuter with 40c gravel tires, and on my road bike with 32c gravel tires. After a winter of commuting, my tires had dozens of little spots on them where the sealant had filled up some small holes. The sealant seems to work best at lower pressure, say around 25 to 40 pounds, so I never noticed any of the incidents on the gravel tire, or on my 29er. On the road bike, at higher pressure, when a puncture occurs, there is a hissing sound as pressure escapes from the tire, and sealant may spray a bit depending on how high the pressure is. But the leaking stops as the pressure gets a bit lower. Not sure how large of a hole it will seal, but it definitely works great for the typical winter debris of glass and sharp rocks.
Thank you for your feedback.
Cycling Enthusiast
Southern Oregon
Cycling Enthusiast
Portland, OR
The best sealant I have found
I like Stans as well, but I think this seals punctures a bit better from my experience. The only reason I'm not giving it 5 stars is it could last longer in the tires (with that said it lasts just as long as Stans. All in all, a great product.
Thank you for your feedback.
Competitive Racer
Wheeling, WV
1 of 1 customers found this review helpful.
Works better than most
Have used others in past but Orange seems to seal better. Have used in Hillybilly race with no issues. It does dry up after a few months and needs to be topped off in tires
Thank you for your feedback.
Cycling Enthusiast
Eastern Oregon
Cycling Enthusiast
Vancouver
0 of 2 customers found this review helpful.
Game changer for tubie fans.
As lifelong fan of tubulars, the puncture used to mean replacing the tire. Now I can wear a tire out before replacing. Also no roadside struggling to change them. What a money saver!
Thank you for your feedback.
Cycling Enthusiast
Canyon, TX
1 of 1 customers found this review helpful.
Long lasting peace of mind.
Rode 20 miles with a 58 inch screw in the tire and this stuff kept enough air in tire to make it home. Works great for 5 month then slowly loses it's leak stopping power. I use the removable valve stems to put it in the tire, this brand does not plug the valve stem and flows in with just squeezing the already beaded tire. I have used this brand for 3 years and have used probably 4 quarts during this time for MTB, gravel, and road.
Thank you for your feedback.