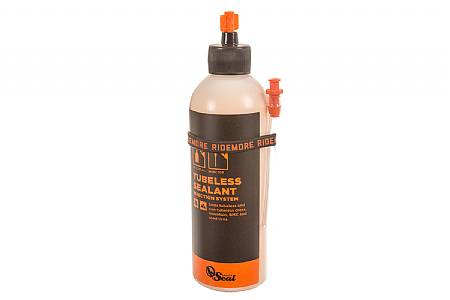 1 of 1 customers found this review helpful.
Love it
Orange seal was recommended by a friend who�s been riding TL for ages. I was a slow converter to the TL tire club, but decided to go with them when I bought my Enve SES for my new road bike. I ride 80 miles a week on 28 x 700cc Continental 5000 TL at 60psi on roads with a lot of pot holes and debris. I ran over a couple wee twigs from a Kiawe tree and had to pull the embedded thorns from both tires. The sealant went immediately to work, and I was able to make it the two miles back home. I lost a little air, but if those had been tubes, they would have been done. I inspected both tires when I got home, added more sealant, air, and headed back out the door. Didn�t need to replace the tires prematurely. And although that�s a dramatic testimony in support of Orange sealant, it�s true value is in the many minuscule sealed punctures that go unnoticed while I�m riding.
Thank you for your feedback.
Cycling Enthusiast
Houston, TX
3 of 3 customers found this review helpful.
Works great
After reading an article in Slowtwitch.com regarding tire sealants, Orange Seal rated the best in punctures. And this was for tubes in clinchers.
I run Continental GP4000sII tires (70025) with tubes. I had been experiencing a flat event about every 400 to 500 miles before using Orange Seal. On my first ride after installing Orange Seal, I had a puncture that sealed itself. I didn't notice an event until I got home and noticed the latex had been spewed out but was not stopped. I found the rock chip and removed it. It spewed for about 5 seconds and then sealed.
Since then, I have had two tire cuts that the sealant would not seal. However, I have not had a puncture causing a flat since installing the sealant.
I highly recommend this.
Thank you for your feedback.