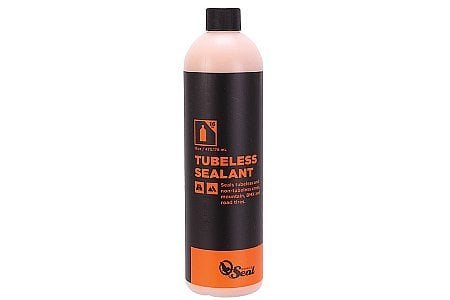 Favorite sealant
Have tried a few other types of sealant but Orange has worked the best for me. Got tired of all the punctures I was getting while commuting, especially during winter. Finally went tubeless a couple years ago. It hasn't sealed up every puncture, but it's greatly reduced the frequency and Orange even more so than the others I've tried. Several times I've made it home and could tell a tire had lost some air and found one or more spots of dried sealant on the tire casing. It's reassuring because it allowed me to get home without having to possibly stop in a sketchy area to fix a flat and all I have to do is top up the air and it's ready for the next day.
Thank you for your feedback.
Cycling Enthusiast
Clewiston Florida
First tubeless setup and it works
My first tubeless setup in my road 700 x 32 tires and about 800 miles, picked up a piece of glass and sprung a leak on a front tire, yes I did get sprayed with sealant but in about 1/4 of a mile the tire sealed itself and I was able to remove the glass piece and added more sealant to the tire and have ridden that tire another 1300 miles with no problems. I added 2 oz on the initial setup and add 1 oz about every 45 days or so to keep liquid in the tires due to the South Florida Heat.
Thank you for your feedback.
Cycling Enthusiast
Seattle, WA
Baxk Hills of South Dakota
Santa Cruz mountains, California
Cycling Enthusiast
Flemingsburg, KY
ORANGE SEAL CYCLING 16OZ SEALANT REFILL works as intended.
I use the Orange Seal for punctures in my tubular tires. Several punctures fixed due to the broken wires of worn vehicle radial tires. Orange Seal takes care of these punctures with ease. Orange Seal is my go to sealant for tubulars.
Thank you for your feedback.
Cycling Enthusiast
Healdsburg, CA
1 of 2 customers found this review helpful.
Seems good; I like the measuring gauge on side of bottle.
I'm new to tubeless, so I cannot say how well the product seals. I have gotten a puncture that did NOT self-seal and I used a Dynaplug to fix.
Thank you for your feedback.