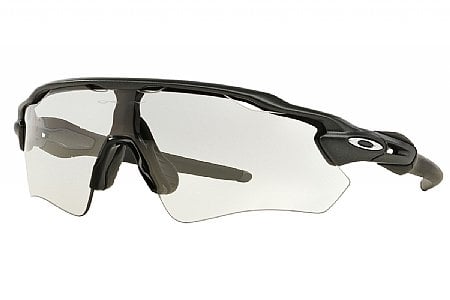 Cycling Enthusiast
Spring Mills, PA
just what I was looking for in day/night eye wear
Ordered the Oakley Radar Photochromic lenses to replace my GIANT sunglasses after getting tired of changing the lenses out. Kicked myself for not pulling the trigger last year but jumped on them when BTD again put them on sale in January. First ride with them was an evening spin and found them to fit comfortably, vented well and adjusted perfectly as day turned to night. Rode with them a few days later in full sun and again they didn't disappoint. I would highly recommend these sunglasses but might suggest waiting for them to go on sale. Great experience via BTD.
Thank you for your feedback.
Cycling Enthusiast
Indiana
2 of 2 customers found this review helpful.
Improving on a good thing
Bought these for the photochromic lense as 80% of my riding is early(ish) mornings when the shadows along tree lined roads make it difficult to differentiate what's what. They do the job! Surprisingly, really liked the slightly taller profile. Allows for better coverage when in aggressive position without have to crane the neck so much.
Thank you for your feedback.
Cycling Enthusiast
San Francisco Bay Area
3 of 3 customers found this review helpful.
Great choice for variable light condition
Ideal for rides that move between shaded and brighter conditions. Lenses adapt quickly. Lots of my rides are on heavily wooded hills where traditional dark lenses are too dark for the shady sections. Pricey withhigh quality optics.
Thank you for your feedback.
Daily Commuter
Boulder, CO
Fast-changing lenses for Radar EV Path are great for varying light conditions
I primarily bought these sunglasses for biking in early mornings with very low light. I want to protect my eyes from bugs, dust, tree branches, etc. so biking without eye protection isn't great. I love the lenses because they change color very fast. I even wear these sunglasses as safety glasses when mowing the lawn and using a string trimmer. My only gripe with these are the arms are very tight to the head, so I can't wear them for extended periods like my other Oakleys. I also wish Oakley made interchangeable lenses.
Thank you for your feedback.
Competitive Racer
Portland, Or