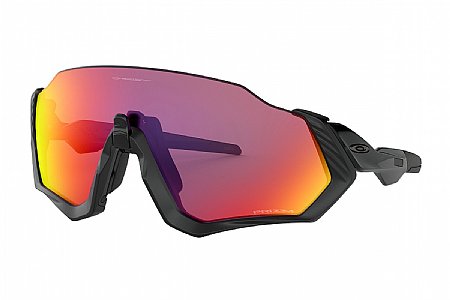 Cycling Enthusiast
San Jose, CA
Pricey, but well worth it.
I'd been wanting to try Oakley's for years, but simply couldn't justify the price. I've worn Smith Pivlock's for 10 years, and tried a few chapter pairs (Tifosi - don't waste your money unless you have a tiny head and don't mind small lenses.). For driving, I prefer Maui Jims. These are as good as Maui Jim's, maybe better. So, I saved my points, waited for a sale, & bought a pair of Flight Jackets.
Fit Perfect. I have a large head, but they also come with two sets of arms, so you should be able to find a fit that works for you.
Eye Coverage darn near perfect. I like the frame less (at the top) design for when I'm in the drops I don't have the frame in the way of my vision. Also great in the periphery. The only, and very minor concern, is I have to turn my head a little bit further to the left if I'm going to cross some lanes due to a little sight line blockage of the lower frame.
Bright Sunlight to Fog I was (and still am) shocked at how I do not need to swap out a set of red lenses (which) I had with my Pivlock's) for darker lenses depending upon lighting conditions. I can wear these from dim/cloudy or, foggy days &or pre-dawn starts all the way to bright, full sunlight.
Nice feature The nose piece pivots allowing more air to pass under so that the glasses don't fog up. I rarely use this, but when I need it, it's a great little feature.
Thank you for your feedback.
Cycling Enthusiast
Los Altos, CA
Cycling Enthusiast
Honolulu, HI
Solid Upgrade to Radarlock
I was pretty happy with my Radarlocks, but I always had issues with the arms butting up against my Kask Protone helmet. That, along with the increased visibility at the top of the lenses were enough for me to try the Flight Jackets. I have to say, I'm quite happy with the subtle improvements. The fit, weight, and of course the Prizm lens are all on point. I haven't had any issue with fogging, so I haven't used that anti-fog lever... seems unnecessary thus far.
Thank you for your feedback.
1 of 1 customers found this review helpful.
Can't go wrong with the prizm lenses
I've used the Jawbreakers previously before and the prizm lenses are excellent which is one of the reasons why I wanted to get these as well. The advancer works really well which suits my needs since I am a heavy sweater. I would always have trouble sweating into my old sunglasses having to constantly wipe them, while with these I hardly would get any sweat on the lenses once I activate the advancer which pushes the entire lenses away from your face. These are light and very comfortable.
Thank you for your feedback.
Cycling Enthusiast
Leesburg VA
1 of 1 customers found this review helpful.
Great Sunglasses
My first experience with Oakley Prism lenses occurred earlier this year with the purchase of new Oakley ski goggles. When I saw that the same lenses were available in cycling glasses, I didn't hesitate to order them when they went on sale. Great fit, field of vision, and wear. Highly recommended.
Thank you for your feedback.