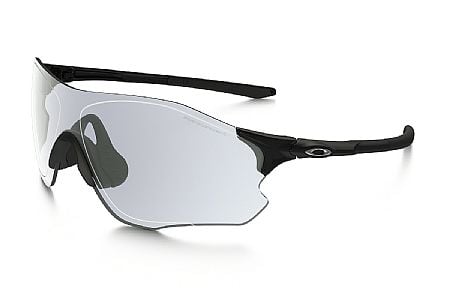 Great sunglasses!
These were exactly what I was looking for lightweight, grippy, awesome clarity, photo chromatic, and best of all NO obstructed view, esp when Im in my drops. Far superior to the POC glasses I had (and lost.) BTD is awesome too. These babies went on sale the next week, and BTD immediately refunded me the difference.
Thank you for your feedback.
Competitive Racer
Middle Tennessee
1 of 1 customers found this review helpful.
Comfortable, high quality, durable eye protection
I wear these anytime I know I will be riding part of my ride in the dark or under heavy overcast. They are very comfortable and light weight. They change tint quickly and, to the wearer, imperceptibly. Great shades!
Thank you for your feedback.
Competitive Racer
Lincoln, Nebraska
Great fit and clarity, but lens scratches easily
I bought the EVZero Path eyewear to use during long gravel rides and races, but since then they've become my go to eyewear for virtually all of my rides. The photochromic lens changes quickly and covers a wide spectrum of light conditions.
The ear stems play well with both helmets I own, one Bell and one Giro.
My only issue is the ease with which the lens can be scratched. I'm a longtime Oakley user and am versant in proper lens care, yet the lens on my EVZero Path has collected a number of small surface scratches in just a few months. They get used in dirty, dusty conditions, so no eyewear lasts forever, but I was surprised how quickly these started to show the effects of use. That's really the only thing that held me back from giving them five stars. From a performance standpoint, they're stellar.
Thank you for your feedback.
Simple the best!
Theres only one word to describe these sunglasses totally awesome! Okay...that's two words.
The lense shading changes quickly back and forth, and they never disrupt my acuity or depth perception. They are lightweight and the contact points secure the glasses firmly to your face.
I like the rimless lenses. They dont block your vision when you are in a tuck position on the bike. I also like the large surface area of the lenses, which helps keep the wind out of my eyes. Finally, they come with an extra nose piece.
They are not cheap, so I was glad to find them on sale at Bike Tires Direct.
Thank you for your feedback.
1 of 1 customers found this review helpful.
Great glasses
Like any cyclist, I like to color coordinate my kit. So, I have many Oakley glasses, too many. M frame, Radarlock, old racing jackets, new racing jackets aka Jawbone, split jacket, XX, Dartboard...(Dartboard?huh???) and more than one color of some. Lately for cycling, I've been switching between several types of frames and lens styles depending on the weather wind, temperature, etc., but sticking to the photochromic lens tint in each of them. The Evzeroes were a great addition to my array of glasses. I liked them so much that I bought a second pair. They are light. Almost too light, but the way my helmet sits, the band at the back kinda clamps down on the earsocks to secure them. I'm Filipino Chinese with a very flat nose bridge, so I frequently have the annoying problem of glasses sitting too close to my face and eyelashes brushing against the inside of the lenses. I replaced the nose bridge with the included larger bridge and the glasses fit my face nicely.
Photochromic is perfect for me. I've read some reviews that these glasses do not darken enough. I like to not have to stop to swap lenses at every changing light condition, or if I'm caught riding after dark. The lenses are almost clear, but darken enough to take the edge off filtered sunshine, through trees or scattered clouds. I personally prefer lighter lens tints to the darker, can't-see-your-eyes iridium. As I mentioned before, I do choose the type of glasses depending on conditions, but each of those glasses have photochromic lenses. The evzero is a frameless design so no obstructions throughout the visual field.
Thank you for your feedback.
Cycling Enthusiast
Northern Alabama
Good - not perfect.
Likes - Field of view is great, resist fogging well, very lightweight, and they stay in place. I have a pretty aggressive position and don't find myself looking over the top of the lens. They don't look quite as overkill as the Range glasses but wouldn't wear them in a casual setting.
Dislikes - The lenses don't get as dark as I expected. That said, I don't find myself squinting unless I make a sudden turn directly into the setting or rising sun. They're just not as dark as I'm used to with traditional sunglasses. I have yet to find a secure place to store the glasses when not in use, besides sticking an arm down the back collar of my jersey, which is not preferred. The rimless frame and non-adjustable arms make the glasses more flexible, so stowing in helmet vents or the back of the helmet was not secure in my Giro Atmos.
Would I buy them again? Probably.
Thank you for your feedback.
2 of 2 customers found this review helpful.
My goto glasses for commuting
I'm often riding in the dark, either to or from work. These glasses are a great option when you don't want to carry two sets. They are amazingly light and comfortable. I never have issues with the glasses sliding around on my face and they do very well staying fog free when moving. The arms fit well in my helmet vents when I do want to ride without them. I was really surprised how well the glasses cover my eyes - normally I would wear googles when the weather gets below 20F, but these glass block enough of the wind to prevent my eyes from drying out. I will buy these again in a heartbeat if anything ever happens with my current set. So far they've survived exceptionally well after a year and a half of commuting and several road & mtb crashes. Great for mtb too!
Thank you for your feedback.