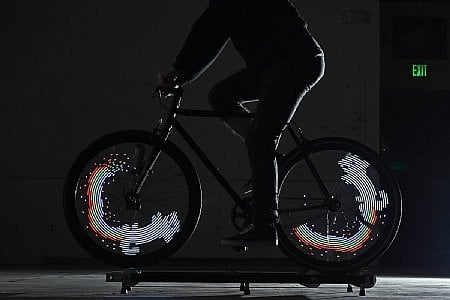 Competitive Racer
Oregon Country
10 of 10 customers found this review helpful.
Nothing but fun
Can't believe this has not been reviewed yet. I used the M232 all last winter for commuting and am starting again this winter. I set the pattern and colors to my mood for the particular day, sometimes I play music along with the lights out of my phone and riding home becomes a festive activity (I don't turn it on in the morning as that's too much like walking home in your party dress...)
The best part is that on late nights when it's wet or cold, I can set up color schemes that really improves my mood. On a dark empty night you don't feel so isolated after popping up some reds, yellows, purples and greens to guide you home by.
I'm pretty sure they work for their intended purpose of making me more visible too, as I often get people on the sidewalk or in cars complementing me on the lights.
I've used it in the snow, hard rain and on foggy drenched nights - it takes abuse (like things hitting it that come up from the road) and never complains. It's a great light.
While I have the usual array of standard front and back lights, riding isn't a party until I crank up the MonkeyLectric!
Thank you for your feedback.
7 of 7 customers found this review helpful.
Bright, sparkly & shiny - what's not to like!
In my opinion, you can never have too many lights - better safe than sorry.
I saw someone with the smaller M210 model on both their wheels one (very dark) morning and thought they looked very cool. I looked into it and saw that for slightly more money (okay 50% more than the 210) you could get this model. So I bought one for the front.
The light is pretty easy to install. You line up the 'board' against the spokes and cable tie it on. They include a couple of 'metal' cable ties if you are concerned about someone stealing it. The battery pack gets cable-tied to the hub. It all fits securely and is weather-proof so far (snow and rain tested over the last 6 weeks!).
What I like
- it is pretty darn cool.
- it's pretty bright. Not 'for use during the day bright', but anytime you'd run a rear light, you can run this.
- there's multiple patterns and colors to select (or you can use 'random').
What I don't like
- the battery is plain old AA kind, seems like they could have saved some weight and increased the battery life by trying to incorporate lithium batteries? You're not going to put this on your TT/road bike, although..........
- although there's 40-odd patterns, some of them suck and programing changes involves pressing the 'theme' button and matching the led color/positions to a diagram in the instructions. A bit fiddly.
Overall I really like it. It's tough to tell if it actually 'helps' in your night commute - I've still had a couple of 'right turn' jonnies try to run me over whilst using it, but I can't measure how many have seen me because of the huge honkin' flashing thing in my wheel.
Thank you for your feedback.
Casual Cyclist
Cleveland, Ohio
Easier to install than I thought
I use this for night riding, especially after an evening at the brewery for open mike night. It works like it says in the manual and does not seem to affect the mechanics of the bike which surprised me considering it uses so many batteries. Its easy to turn on, but hard to find the on off button in the dark. You have to press the off button several times to get it to turn off. That's slightly annoying. When hanging your bike, take care not to damage the device.
Thank you for your feedback.
Daily Commuter
Seattle, WA
Casual Cyclist
portland, or
4 of 4 customers found this review helpful.
Awesome light, easy install
This is an awesome light with TONS of great preset designs. The install was pretty hassle free too. My only problem is keeping track of the packaging which has all the codes for the different patterns/designs. Maybe a smartphone app in the future?
Thank you for your feedback.
Casual Cyclist
Chesapeake, VA
5 of 5 customers found this review helpful.
Very Nice (and Cool) Lights
I've had my eyes on these lights for quite a while but due to the price (it used to be around [$] each), I could only dream about getting them. Eventually, I had enough money to buy one for both wheels.
Likes
- Plenty of different themes and each theme has different color combinations
-Very visible, if not visible enough, you can increase the brightness.
-Waterproof. I've seen a youtube video where some one rides into a very deep puddle with these on and they still worked. However, I'm not going to risk testing that
-It looks awesome.
Dislikes
-I use a BMX bike which has 20" wheels so the lights just barely fit. With that said, it was a bit hard for me to install since I had to somewhat squeeze them in.
-I wish it was rechargeable. I heard the monkey lights pro version is, but it's ridiculously expensive.
Other than that, that's all I have to say. If you have the money and you bike a bit often, I would say to buy them.
Thank you for your feedback.
Awesome bike light!
Love my Monkeylectric light! Super bright, cool patterns, very eye catching. I've gotten so many compliments on it. Only two things I'd suggest changing - make it USB rechargeable instead of 3 AA batteries, and make a lower brightness setting (it's almost too eye catching when biking at night... possibly distracting for drivers). Overall 1010, would buy again!
Thank you for your feedback.
Cycling Enthusiast
Covington, Ky