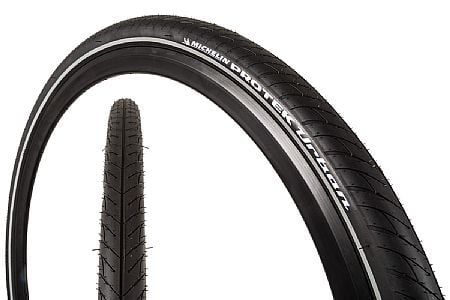 4 of 5 customers found this review helpful.
A Great Performing UrbanTrail Tire
I mounted 700x38 on my Bianchi town bike. Note that the 38's (and 35's) have an overall width 2mm wider than listed, so the ERTRO size is actually 40mm. These tires-even though large p 40mm-roll out quickly, are comfortable, and have never flatted despite going through some sketchy road (glass & debris) surfaces. They've survived the same roads where my other supposed messenger favorite puncture-resistant tires did not. The tread, compound, and huge contact patch provide good traction under hard braking and the stickiness is confidence-inspiring when railing turns. I've used them on hard pack trails and they've performed well there too. These tires are already a good value, but when BTD offers them BOGO or 30% or more off, you can't pass them up. I've purchased an additional set of 35's for my touring rig and will probably install these before the others wear out.
Thank you for your feedback.
Cycling Enthusiast
Atlanta, GA
Cycling Enthusiast
Omaha, NE
Nice tire though bigger than the size indicates.
I was replacing a different manufacturer tire and liked the reflective sidewall in this tire so I ordered the same size. Unfortunately, the tire is significantly bigger than the other brand, necessitating I remove fenders and slightly grind the fork to get the tire to roll through it. The ride is nice and soft at approx 70 lbs and I have ridden them for over a year (approx 1000 miles) on all surfaces, hard, gravel and mud. I will probably replace them with the same model in a smaller size when necessary.
Thank you for your feedback.
3 of 4 customers found this review helpful.
Nice Tires
The Michelin beads seated properly upon the first inflation. The Michelins replaced another brand tire that would not seat properly after several attempts and resulted in out-of-round tires. The Michelins are round, have a reasonable comfort level at 65 psi, and the braking grip is good. As the Urban name implies, small tread slits make them more suitable for pavement than off-road.
Thank you for your feedback.
Cycling Enthusiast
Lubbock, TX
2 of 2 customers found this review helpful.
Great Urban Cycling Tire
I use on city streets asphalt. inflated to 10psi below recommendations for smooth ride. inflation to recommendation of 80 psi for weight 175 lbs rolls great but a bit jittery for 700-35mm on Trek FX-s4.
Thank you for your feedback.
Cycling Enthusiast
Nebraska
2 of 4 customers found this review helpful.
As promised
True to size. Mine were not any wider than I anticipated, as some other reviews indicated. Fairly stiff sidewalls so I run them about 10 psi lower than last tires. Feel high quality and ride nicely.
Thank you for your feedback.
1 of 1 customers found this review helpful.
Great commuter tire!
I bought these in the 700x35 size as the Cross Max I want in this size as well are a challenge to get. (But not giving up!)
I won't even consider another brand after I tried Michelin about ten years ago and the Urban fits the bill very well.
Very easy to mount, seats the first time, wards off nasty puncture-inducing items (I also use thick tubes as well - a bit of weight added - but I'm using these on my commuter bike, so peace of mind is priority), rolls in a lively manner without effort. An excellent tarmac tire!
Thank you for your feedback.
Casual Cyclist
Hollywood, FL
3 of 4 customers found this review helpful.
Easy retirement!
I had some concern after reading reviews that mentioned how difficult it is to get these tires to fit on the rims. However, I found the process very simple. I am a casual cyclist but I have a lot of experience using Michelin tires on my cars and have been very satisfied with them through the years. After installation I noticed a large improvement of the handling and ride on my bike. Admittedly, the tires that I replaced were old so almost any decent tire would be an improvement.
Thank you for your feedback.
Cycling Enthusiast
kansas city, mo
2 of 3 customers found this review helpful.
An attractive, fast, and tough tire.
I use the Haanjo Tero as my daily commuter, with a couple of bags for my lock, extra layers, a quick fix kit (pump, tube, patches, levers,core,core tool), headtail lamps, reflectors, and fenders. Total weight 30 pounds. The bike came with the Kenda happy mediums in 700 x 40 variety, and those were decent tires with some major drawbacks. They got frequent cuts, so even if the cut didn't cut the tube, the tube would hemorage out, and then wear down against the pavement. I went through a few tubes in just over a thousand miles, and got tired of patching tubestires on a frequent basis. I did my research, and decided that these tires are the way to go. they're less expensive than the vittoria or armadillo tires that I looked at, are more attractive, and are a pleasure to ride on. On a 9.5 mile ride, at a 4% uphill grade, I reduced my time from 45 mins to 41 mins, compared to the kendas. There was also not a single cut, and the cornering and braking seemed improved. It even seemed faster on the hardback gravel portion of the trail, something the Kendas should excel at. They were also fairly easy to remove and put on with clearly labeled directional arrows on one side. I also like that there's the reflective stripes the full circumference of the tire, the Kendas didn't have that. I have bookmarked this page, and will get them again next time they're on sale.
Thank you for your feedback.