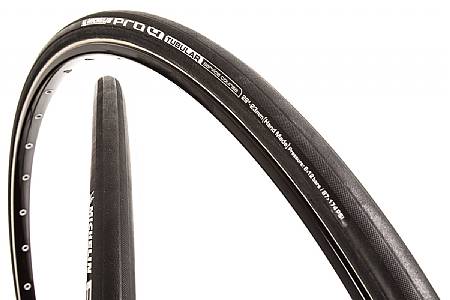 Cycling Enthusiast
Santa Clara, CA
Works as expected
Mounted on Easton EC 90 Aero wheels. 170# rider, inflation set to 95PSI. Ride is firm enough that I don't feel any side to side wallow and I don't feel every little crack in the pavement. My personal best mileage on these tires is 1806 because I get punctures that are too big to seal, so I am not sure how they stack up for wear.
Thank you for your feedback.
Cycling Enthusiast
Golden, CO
4 of 4 customers found this review helpful.
Excellent all around tubular
I've ridden a couple sets of this tire. It probably isn't as quick a tire as a Vitoria Corsa, and maybe not as tough as a continental sprinter. But it holds an excellent middle ground. Great all around ride quality with its supple casing and latex tube and the rubber doesn't vacuum up every sharp bit of sand on the road. I rode Golden Gran Fondo last year on this tire with several gravel sectors on the course. The tire came through totally unscathed. In contrast, I've had Corsa's (prior to G) pick up shards of granite sand after rains here and flat after their first outing. It is a very different tire from the michelin pro 4 service course clincher which I've also ridden. The rubber compound may be similar, but the shape, and the casing are extremely different.
Thank you for your feedback.
Competitive Racer
Philadelphia, PA
1 of 1 customers found this review helpful.
Awesome tire with excellent durability
While I wish tubulars came stock with longer valves, that's my only complaint with this tire. I've ridden Michelin clinchers for years, but these were the first tires I put on where I was conscious of how sweet the ride was during a ride.
Thank you for your feedback.