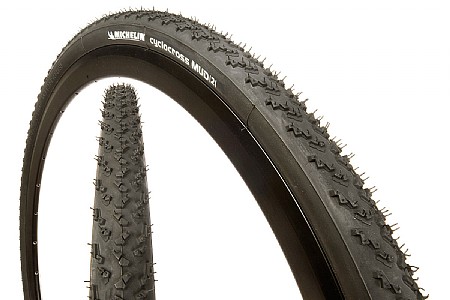 by
Andrew S.
(BikeTiresDirect.com Staff)
Cycling Enthusiast
27 of 30 customers found this review helpful.
The go-to for cyclecross clinchers.
This is the go to tire for cycle cross, whether your a seasoned veteran or just giving cross a try. Its fast when its dry but knobby enough for the mud, this tire really does it all. Ask any of the guys that work here what they ride when their not on the tubulars, and they'll answer, Mud 2.
Thank you for your feedback.
6 of 6 customers found this review helpful.
A Great Tire for General Trail Riding!
Over the Thanksgiving holidays I completed a 120 mile ride with three other riders on the C&O Canal Towpath Trail. While the trail is relatively flat, it has some areas that were pretty muddy and slick especially following the heavy rains they had experienced during that ride time. I was concerned about the narrow width of the tire and whether the shallow tread depth was going to give me problems when riding this trail with my three adult sons that attack trails with a take no survivors attitude on biking. They were all riding knobby tread mountain bikes but even with the compromised trail conditions in a few areas I lost no ground to those young whipper-snappers. In fact when we got to hard ground I felt my tread gave me a decided advantage.While I'm not a competitive rider in my typical day, I certainly couldn't yield to my sons and these tires made it possible for me to stand my ground. I can't comment on their effectiveness in true racing conditions but for me they were a definite win.
Thank you for your feedback.
Cycling Enthusiast
Chicago
Competitive Racer
Eastern PA
4 of 4 customers found this review helpful.
Love these tires for all cyclocross conditions
I race cyclocross using these tires on clincher rims. I absolutely love them. I use them in all conditions just changing the tire pressure. They hook up great and don't pack up with mud.
Thank you for your feedback.
Cycling Enthusiast
Hood River, OR
2 of 3 customers found this review helpful.
These tires worked great in the mud at PIR!!
I had been riding a different tire for the beginning of the 'cross season in Portland this year and as the mud hit, I really was not having a good time. I put these on just in time for the first PIR race of the Cross Crusade and was tearing it up!! They cornered great and shed mud fast! Didn't feel any wasted pedal strokes from slipping! (Too bad my rear derailleur decided to shatter on the 2nd to last lap!!)
Overall a great tire to race cross in Oregon with!!
Thank you for your feedback.
Cycling Enthusiast
Virginia
12 of 15 customers found this review helpful.
Great clincher cross tire
I'm using this tire on a Surly Cross-check and the performance has been great. The recommended inflation ratings is a bit high if you're going to be racing cross on them, especially if the ground is really soft. My last cross race only had one deep mud section but these tires bit well and with steady spin got me through it no problem. I've even been doing some pure road work with them and have been able to pull a 17mph average speed over 35 miles (for reference, with Conti 4 Seasons on my Madone I do that same circuit at about 18.8 mph).
One last note if you do buy these they are directional! Front tire goes one way, rear the other. Don't mount them and THEN figure that out.
Thank you for your feedback.
Great in both Mud and All Around
Race cross on these with latex tubes. Handles as well as when I used to run tubulars and can handle pressures almost as low as tubulars. Even though they are named Mud they work great in dry loose conditions as well.
Thank you for your feedback.