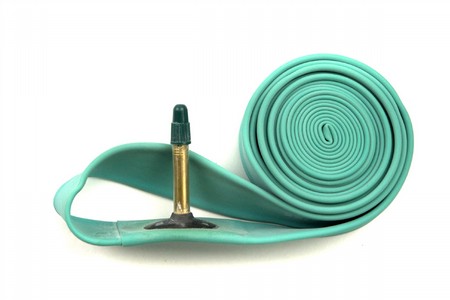 Cycling Enthusiast
Cleveland, OH
Cycling Enthusiast
NE Ohio
3 of 3 customers found this review helpful.
As close to tubulars as you can get.
Latex tubes are light, but their biggest benefit is rolling resistance. I actually see gains of 0.5 to 1.0 mph with latex tubes vs butyl, and the ride is comparable to tubulars - smooth as glass. Also, I don't agree with BTD's description that they are fragile. While you need to be careful to avoid pinching them when you're installing them, they have been exceptionally durable for me in recreational riding. Mine have lasted more than 2 years at 2-3,000 miles per season. I'm about 180 lbs and I ride Conti 700x23s at relatively high pressures (130psi).
Thank you for your feedback.
Competitive Racer
Bel Air, MD
3 of 12 customers found this review helpful.
weight isn't even NEAR what is claimed
the claim is 65g, the actual was 81.9g on avg (i bought 4). i haven't even put these on the bike, so i make no claims to how they roll, but seriously consider if 15-20g savings over butyl is worth it for the nearly $20tube price.
Thank you for your feedback.
Cycling Enthusiast
Aurora, OH
7 of 8 customers found this review helpful.
Like ridin' tubulars, and not so fragile if you can avoid pinching during installation.
Latex tubes are much more flexible that butyl rubber tubes. They reduce the rolling resistance of your tires and absorb bumps better than butyl. They are harder to install because it is harder to prevent them from pinching when installing them. That's why they're bright green - so you can see when they're not installed correctly. I've been riding the same tubes for more than 2 years, and they're as silky smooth as tubulars.
Thank you for your feedback.
8 of 8 customers found this review helpful.
Great Ride!
I used these tubes inside 700x23 Michelin Krylion Carbons. Not all that difficult or different than installing standard butyl tubes, like the previous poster I used PLENTY of talc. Ride improvement is noticeably smoother than butyl tubes I had in there before. For the extra money serious riders and racers will definitely appreciate the improved road feedback these tubes provide. These do lose air quickly so don't use them if you consider airing up your tires before every ride a major hassle.
Thank you for your feedback.
Cycling Enthusiast
san jose
25 of 25 customers found this review helpful.
best thing you can do to your tire
lots of baby powder and slight inflation on install and you have a way to make any tire better. You can fit these in up to a 28c tire although it probably voids, and also everyone will tell you you can't.
Ride improvement is enough to notice, not maybe, and it is a lie that they flat easy. I could barely put a knife thru mine that was flat to make a patch yes you can make your own patches out of it for latex-take off the Talc though.
Its worth it. They leak air naturally so you top off before you ride, and if you just want a no brainer tire and tube, this is not for you. This is for people who feel the bike.
Thank you for your feedback.
Cycling Enthusiast
Pasadena
Definitely not for everyday use, tube actually wears out see below for explanation
I like the the tube but with reservations, only use this for racing not everyday use, here are some reasons why. On installation you have to talc up and have a little air in the tube to reduce pinching, no big deal.. If you run over 110 pounds air pressure everyday, the tube will eventually thin out and puncture at the intersection between the spoke center line of the rim and where the two tire beads come close. Because the tube has to stretch its normal cross sectional circle into the profile around the two tyre beads and conform to meet the rim tape it seems to cause a uniform stretch and very noticable thinning around the entire tube on the inside center line of the tube. Running Michelin Pro3 Race tyres, the tube actual imprinted the tyre inner markings to such a degree over a year that the tube wall thinned out as if there was a seam in the latex tube that was splitting apart, Even if you repair the puncture the rest of the tube is so thin arouns this center line it would be a matter of days before it would puncture in another location. This only happens after extended use of this tube. Consider them disposable after I would say 750 to 1000 miles or 12 months under pressure which ever comes first.
Thank you for your feedback.