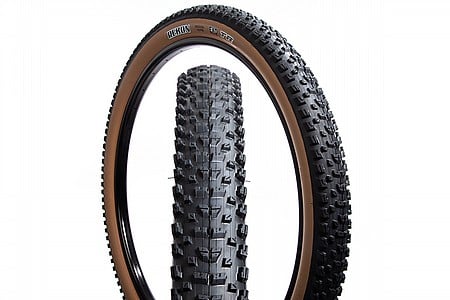 by
I am running a tubeless set up with them and they
Los Angeles, CA
The Rekon Works Great in So Cal!
I purchase these tires on my cross-country mountain bike to give better traction in the dry loose conditions of Southern California. These tires have exceeded my expectations! They have a great grip on the dry conditions and they are very lightweight, and roll fast. I am running a tubeless set up with them and they mount on my wheels very easily.
Thank you for your feedback.
by
Blue Collar Barber Bike Glider
Cycling Enthusiast
Colorado Springs, CO
Wide Trail is made specificaly for a 35mm rim and not 30-35 as often stated
The Rekon is a fantastic tire and the 3C MaxxTerra has both durability and grip is just the right places. I was very frustrated with the width of my 2.4" WT Rekon (claim 61 was 57.9) because the 2.35" Ardent Race (claim 60 was 61) I had paired it with on the back was wider. The wheels were DT Swiss XCM1200 with 30mm inner rims. This is an issue with all WT marked tires they aren't as wide as tires not marked WT on rims 30mm or narrower.
I know this really clearly now that I purchased a rear Raceface Next R36 and have tested numerous tires. Now the WT tires are exactly the width as advertised on the 36mm rims. I used to dislike WT when I owned 30mm rims and now I like/might even prefer them for 36mm.
Bottom line is I'll never use or buy another WT tire unless specifically for a wheel with a 35/36 inner rim width. It also goes without saying the 2.6" tires are meant for 36mm rims so 2.6" = WT. My two Ikon 2.6" were 62.5 and 61.0 on 30mm and now they are 66.4 and 66.0 on the R36! They are supposed to be 66! You see the pattern?
3 stars for value means 'reasonable' I'm sorry, but I feel like I'm possibly being too generous because 2 stars 'kind of pricey' is how I really feel. BTD was excellent in price matching a huge discount being offered by a competitor, and I think that's the only way I can buy these tires given the full retail prices these days.
Thank you for your feedback.
Cycling Enthusiast
Michigan
Fast and fun combo for trails.
Switched to a pair of Rekons after 2 seasons on minions. I immediately noticed the speed boost. I loved the DHF and Minion pair but it dragged a bit on hard pack. I knew I�d be giving up some traction but seemed to have hit a limit on Strava times. Put these on and was hitting a few PRs for the summer. Definitely could not be as aggressive as I was, especially on tight non bermed corners. No surprise I suppose. Makes me wonder if there is something between Rekon and DHF for the front tire. For now I�ll enjoy these until it�s time to replace.
Fast rolling
Light weight ish
Went with the 2.6 WT to help float through the dry Michigan summer.
Thank you for your feedback.
Cycling Enthusiast
Austin, TX
Competitive Racer
St. George, UT
2 of 2 customers found this review helpful.
Great Tire with Trail Capability and XC Weight
I use this tire as an all around trail and XC race tire. It's EXO sidewall protection is a must where I live due to the sharp rocks that litter our trails. The weight is not super light, but it is very respectable given the sidewall protection, which to this point has never let me down. The wear of the dual compound is much better than the 3C which seems to show signs of degradation within 3-4 rides. I love the looks of the tanwall as well.
Thank you for your feedback.