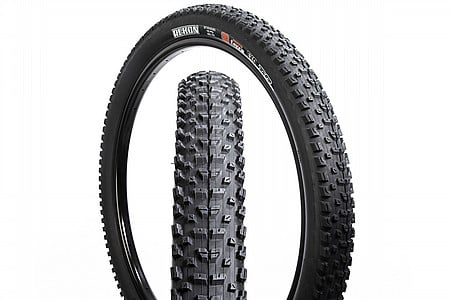 2 of 3 customers found this review helpful.
Not for the front
I tried running this as a front tire. When sand got deep, it did not track and would pull to one side. On dry loose over hard it could cut loose very suddenly with little warning. I knew the tires tendency and had ordered a different tire, but was still riding the rekon and crashed bad when it let go, no traction on dry loose terrain.
Thank you for your feedback.
Cycling Enthusiast
Edmonton, AB
5 of 6 customers found this review helpful.
27.5 x 2.4 Rekon
I haven't been able to put these tires through their paces yet but I can comment on constructiondesign
The WT casing works great on 30mm (inner) wide rims, the profile is much rounder than traditional casings and the side knobs are better positioned for cornering.
I'm not sure if Maxxis has changedimproved materials for their tubeless ready tires but these Rekons are holding air much better than my old Minions or Ardents, so far I'm losing approx. 1-2 psi per week with the Rekons vs. 5-10 psi for the others.
I'll update my review once I've had a chance to properly beat these tires up on the trail.
Thank you for your feedback.