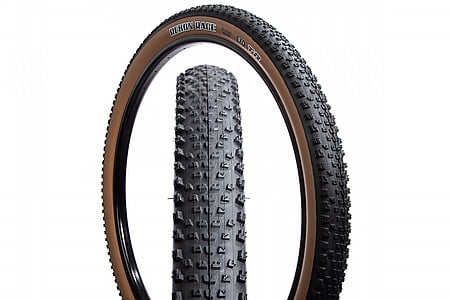 Come loose in the corners
I definitely acknowledge these tires have some pedigree but they don't suit my riding style.
They are fast, blistering fast. As mentioned by a previous reviewer, they break loose too early/easily in turns. Often it's a surprise and I'm forced to save myself.
I was hoping to use them for dry, hardpack XC races and short track but will stick with the Ikon/Ikon or Reckon/Ikon combo.
I will say that I'm going to use them for my 29er bike packing rig.
Thank you for your feedback.
Competitive Racer
Park City, UT
2 of 2 customers found this review helpful.
super grippy but fast!
well, basically these tires improve the bike handling and the riders ability. go figure....how could that happen you say.......the volume helped my hardtail 29r over the rocky stuff and the super good tread helped in the loose crap in the turns. so i got better !......because of these dang tires! i have beat the crap out of these and they seem to like it. they may be a bit heavier than others out there, but good luck with that weight weeny! save it elsewhere! not on the main part of you bike that actually touches the ground. ......or you will.
Thank you for your feedback.
Competitive Racer
Seattle, WA/Bend, OR
7 of 7 customers found this review helpful.
Pretty good
I like these OK. I typically run a Rekon 2.4 up front with Ikon 2.35 rear for training and marathon/ultra races. I picked these up in 2.35 as a faster rear option. I didn't notice much of a speed pick up. Maybe a little but nothing definitive even with a power meter. They do, however, break loose much earlier than the Ikons on the l. At least for my riding, the tradeoff isn't worth it - there isn't enough of a speed increase. I think next year I'll stick with Ikons rear for more consistent traction and try Aspens for when I need a faster rear option now that they offer a wide trail version.
Thank you for your feedback.
4 of 4 customers found this review helpful.
Bad Luck with Rekon Race Tires - Multiple Failures
I'm wondering if anyone else has had the same bad luck with Rekon Race tires as me. I've had four flats/failures of Rekon Race tires within the last 4 months, two while XC riding/training, and an unfortunate double flat in a local XC race where I ended up needing to run across the finish line to finish. I've switched back to Ardent Race tires which I'd been running prior to using Rekon Race tires. My experience with the Ardent Race tires is that while they are a bit heavier and have more rolling resistance, they have a fraction of the failures and have been much more durable/less failure prone which, to me, more than compensates for the their comparative slight disadvantage in weight and rolling resistance.
Thank you for your feedback.
Cycling Enthusiast
Orange County
9 of 10 customers found this review helpful.
I am loving it as an Ikon replacement. RekonRekon Race, frontrear.
I've been toying with the whole Maxxis line of XC tires this year. OEM Ignitor, then Ardent, Ikon, Rekon, Rekon Race.
SoCal hardpack, loose over hard, minimal sandmud.
I really liked the RekonIkon setup, but killed the rear Ikon sidewall on a sharp rock. Rekon Race replaced it and I love it. Even more grip when climbing and braking. Feels similar in cornering.
Thank you for your feedback.
Cycling Enthusiast
Twin Cities, MN
Cycling Enthusiast
Tucson, AZ
1 of 1 customers found this review helpful.
Good grip and fast rolling
This tire has been great so far. Running it on my rear wheel on a hardtail. It gets good grip, but rolls fast. The bead was also pretty easy to set for a tubeless setup.
Thank you for your feedback.