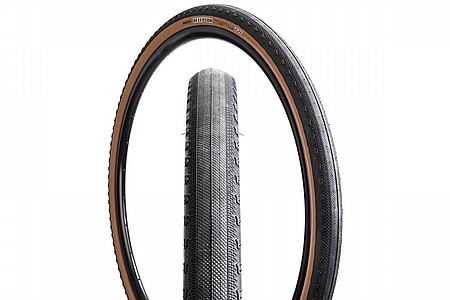 Competitive Racer
Tijeras, NM United States
11 of 12 customers found this review helpful.
Light and fast but...
Was training on a heavier GK+ tire set all year and then switched over to a set of the Maxxis Receptor's to gain speed from the weight savings. Wow what a difference the weight loss made. Pleasure to climb and acceleration is punchy as anything gravel oriented. Over the long 4th of July weekend I took these out on a 230 mile training lap for a bikepacking race over parts of the Tour Divide route in northern NM and southern CO. Came in hot to a short rocky descent and bang - front blow out. I had gotten used to hammering through whatever conditions were in front on me when running the Gravel Kings. These tires are nowhere near as stout. First flat I've had in over 2.5 years. That being said my line choice was poor, I hit hard enough to dent the rim, and both watter bottles went flying out of their fork mount cages.
Frankly, not sure if any tire except maybe a Maxxis DHF would have made it through this hit. Question is do I get another one of these Receptor's or put my Gravel King's back on for the peace of mind?
Bottom line: if you wanna rip your gravel bike like you're on a 130 mm travel all-mountain rig this is not the tire for you.
Thank you for your feedback.