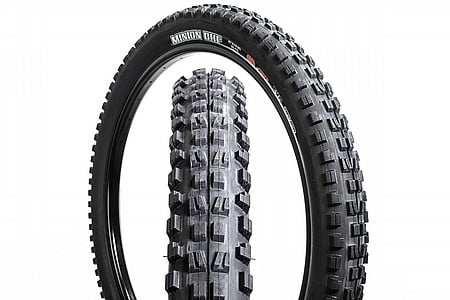 Maximum grip Plus tires
I was using Bontrager XR4 29x3.0 when I decided to give Maxxis DHF/DHR combo a try. This setup is for a rigid single speed ridden in the mid-Atlantic area on mostly XC single track.The Maxxis tires have a bit more durability on the sidewall compared to Bontrager XR4. The DHF/DHR are meant for aggressive riders, with the DHF really wanting you to lean the bike in corners before it bites. There's a little void when leaning with the DHF before it hooks up again that I couldn't get comfortable at times (no longer fearless). The Maxxis tires have better traction on the damp earthy single track I ride but they also drag more than the XR4. I noticed the drag during climbs but not as much on flatter terrain. These tires also dampen the ride a little better than Bontrager.
I'd recommend the DHF/DHR 29x3 for maximum traction conditions. This is a great fall/winter tire when leaves cover the trails and the trails never drying out. These Maxxis tires are true to size at 29x3.0.
Thank you for your feedback.
Awesome purchase
I'm very happy to know you make a 29x3 tire for my bike. Love the way they look and feel when riding them. Extremely happy with my purchase. And I'm riding my bike almost daily. Will purchase again soon from biketiresdirect.Com.??
Thank you for your feedback.
Competitive Racer
Phoenix AZ
A pair of 29x3 Maxxis DHF / DHR tires are solid as a rock!
I use it primarily for my bike packing rig a TREK 1120. It is a perfect tire combination for our desert condition. My course includes packed and loose gravel, single path, technical mountain trails and occasionally road and pathways. With a bike load of 50-60 lbs + myself, a 3-inch tire width is perfect to tackle the course.
Thank you for your feedback.
More Confidence On Turns Like Velcro
Bought this tire to replace the Chupacabra on the front of my Stache. Game changer! I always felt that the Chupacabra felt loose on the front end. This tire provides plenty of traction and has given me much more confidence on fast turns - Mud, dry and loose. I wish I would've bought this tire years ago.
Thank you for your feedback.
Made my Trek Stache one mean machine!
Got these to replace my stock Chupacabras on my Trek Stache 5. I ride a lot of more technical trails that are either dry and sandy or muddy as heck. I noticed a difference immediately vs the stock tires in regards cornering and overall handling. I can really duck into corners now without feeling any slipping and I feel like the whole bike sticks to the ground a little better. In the mud, they keep me upright most of the time. If I hit a curve with some thick mud, they give me an extra second or two to catch myself before I eat it. With my Chupas, I would be on my face before I could get a foot out. They do get HEAVY in mud as they really cake and hold it. Overall, love the tire. Pump it up for mud and keep it squishy for dryer conditions and rocks. It also makes my bike look MEAN!
Thank you for your feedback.