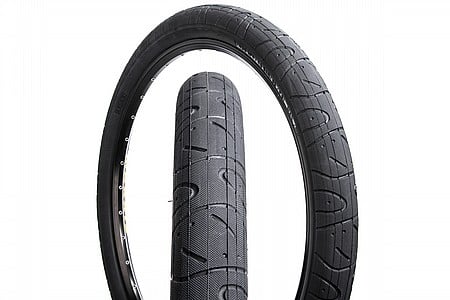 Nice tires but high rolling resistance
I use these for city commute, while they are nice looking thick tires they are high on rolling resistance compared to some other commuter tires, I have used in the past, average speed dropped 1-1.5mph after switching to these tires, after all this is a sticky BMX tire.
But they are very stable and seems to be good against puncture.
Thank you for your feedback.
Daily Commuter
Oakland, CA
Smooth fast rolling tire
The ride is smooth on these tires. The Maxxis are on a folding bike coverted to an ebike. The tires grip very well climbing hills with little rolling resistance and that�s important for an ebike, where you want a steady cadence and less rolling resistance to aid the motor spinning at a high rpm. So far so good!
Thank you for your feedback.
Cycling Enthusiast
Northern CA coast
1 of 1 customers found this review helpful.
Sweet front recumbent tire!
Using this on my SWB USS Haluzak recumbent. Wanted something lighter than the 20" Schwalbe's. Really liking this tire so far. My recumbent is weight biased to the front and I'm getting great performance with it aired down to 38psi! Rolls well at this pressure and smooths out our very rough pavement. This is one tough tire but it's no dog either.
Thank you for your feedback.
Cycling Enthusiast
Morehead City, NC