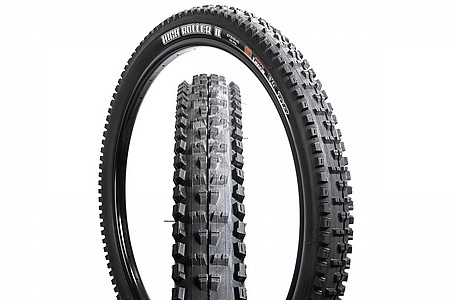 Cycling Enthusiast
Glendale CA
1 of 1 customers found this review helpful.
Great Front Tire
I found out that putting this tire on the rear is like having someone holding you back while climbing. Its basically a great front tire. A lot of my friends say the same thing. Its a leader not a follower tire. It gets down and dirty when it comes to gripping the corners but as a rear tire for climbing its lame. Unless you are getting shuttled to the top.
Thank you for your feedback.
Cycling Enthusiast
Baltimore, MD
1 of 3 customers found this review helpful.
Great cornering and braking grip at the expense of weight and rolling resistance.
This tire is best served as a front tire, I don't recommend it as a rear because it rolls pretty slowly and weighs a ton. The High Roller 2 is comparable to the Schwalbe Hans Dampf. The Hans Dampf was my previous go to front tire because had great braking and cornering grip when new. The High Roller 2 is equal to the Hans Dampf in the rolling and braking department, but has better cornering grip and is very confidence inspiring. The Hans' side knobs tend to flex a lot and tear at the base causing erratic handling. Another unexpected positive is the damping characteristics of Maxxis tires compared to Schwalbe tires. Given equal tire pressure when setup tubeless the Schwalbe tend to ping off of trail obstacles, much like and over inflated Basketball, and deflect you off of your line. The Maxxis tires tend to thud off of, and absorb the impact of trail obstacles, keeping you more on line. This tire, on a Stans Flow EX, measures 27 13/16" tall and 2.295 wide.
Thank you for your feedback.
3 of 3 customers found this review helpful.
Good tire, corners well, nice side nobs and wide footprint.
Great tire. I am an all mountain guy who likes to go up an down trails fast. The bike came with a racing Ralph which is very light and rolls great but I had no confidence in it in the corners or descending. The high roller is excellent in the corners, keeping a line and for descending. Price is good compared to others, I still don't like paying [$] for a MTB tire when that is what I pay for my motocross tires which have a lot more material.
BikeTiresDirect.com Comments
Hi,
Thanks for your review! Part of what you're paying for in MTB tires is the lack of material, actually. Since you don't have a motor, you're pushing every ounce of the tires with your own muscle power, so less material—and thus less weight—is very desirable! Making strong, durable MTB tires that are lightweight enough to pedal comfortably is an engineering challenge, which is part of what you're paying for.
Thanks, Stacia
Thank you for your feedback.