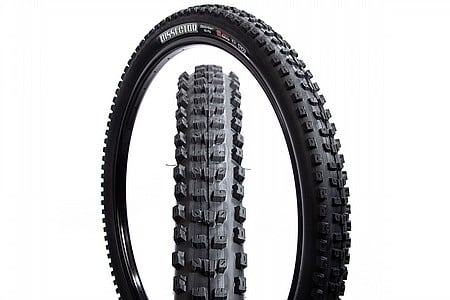 Cycling Enthusiast
Nashua, NH
3 of 3 customers found this review helpful.
Strong tire for hard pack and decent in mixed
Overall I'm very pleased with these tires. I bought a set principally as a better hard pack tire for riding in the super dry conditions we've had here in the Northeast this Summer 2020 with the ongoing drought, because I was finding my go-to tires, Maxxis Minions were getting to skittish, especially in cornering and berms.
These tires are a definite improvement over Minions on hard pack, and still perform well in other mixed conditions like loose-over-hard sand, moderate loose and in moderate wet rooty and rocky conditions. They set up easily tubeless and hold up well in aggressive riding. They're very confident in laying over and also on navigating technical rock gardens and rooty descents.
They are also showing very little wear, despite having over 500 miles on them.
If these tires fall short in any way, they are showing a bit of weakness in Fall conditions here, where the loose-over-hard is leaves and pine needles on the hard pack - so they do skid as a rear tire on technical ascents when you have to drive a lot of power, because the center tread doesn't bite through to the hard pack well enough. I'll probably switch back to my Minions for the next couple of months until the snow flies.
Definitely recommend these tires though.
Thank you for your feedback.
Cycling Enthusiast
Florida
2 of 2 customers found this review helpful.
Great grip, keeps speed through corners, and easy to set up tubeless.
I use it as a front tire. Tubeless set up was incredibly easy. Pumped it up with a standard pump and the dissector automatically set itself in place. Grip is great, fast through corners, and accelerates nice. Great ride on my local trails which is a mix of sand, gravel, roots, rocks, and mud. I love it.
Thank you for your feedback.