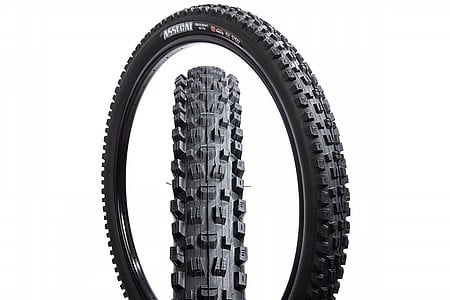 4 of 4 customers found this review helpful.
Assegai EXO 2.5
Awesome front tire that hooks up in most any condition. About 8 months on tire now with weekly, year-round riding involving lots of fireroad climbs to DH trail descents and tire still holding up and riding great with some side lug wear is all. Zero tears to tread while ridden hard in high speed, mixed trail terrain while I killed many DHR EXO, EXO casing rear tires in past year. Would run Assegai rear but not enough clearance since tire is exactly 2.6 in reality on 3035 rims from widest tread points. So a big 2.5 and why great as a front. Running Kenda Hellkat 2.4 rear that seems to be a good match in most all conditions.
Thank you for your feedback.
1 of 1 customers found this review helpful.
You can push this tire harder, it does nothing surprising, and recovers quicker.
I ride the Assegai fast on steep, sketchy, rugged downhills. You can push it harder into corners before it starts to give way, but it does so in a predictable way and it's easy to recover. My favorite front tire.
Thank you for your feedback.