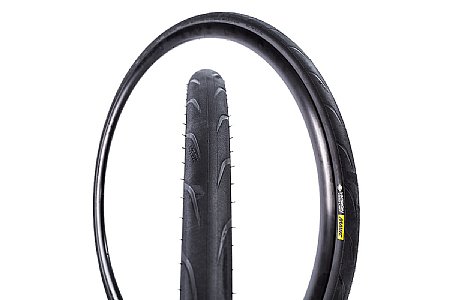 Daily Commuter
Canberra ACT, Australia
Do All Things Tubeless should... But...
Been riding these 5 days a week (150ks'ish) on a pair of Cosmic Pro Disc UST wheels (they came with the wheels. Love everything about the wheels and the Maivc UST system its awesome.... but moved to a new city where the road surface is a bit rougher and more debris on the bike lanes than I was used too. After about 2 months... they look as though they are shredded, sliced up and have multiple holes in them. Three times now I have had awesome sealant showers once in back and twice in front. The holes eventually seal but only to bust open again resulting in another happy sealant shower... With 80 psi in the front and a tad more in the back... Its crazy how much sealant goes everywhere and its super sticky! thankfully not messing with the disc pads... Washed my bike and my shoes twice this week... Anyway... If you have a nice surface these could be great... but for hard wearing I cannot rate them at all with the road conditions I am now on. Again LOVE MAVIC and I am sure they are great on the right surface... very soft and yep worn like crazy! Was thinking of patching on the inside but I am over the mess for now and I've gone back to tubes... I might give something else a go Tubeless and sealant wise next time round! Hope this helps!
Thank you for your feedback.
0 of 1 customers found this review helpful.
Really bad tires
Going back to regular tube tires, this ones are definitely not good , any small gash from glass will destroy the tire and it will not seal went thru 3 tires and Im done ... I really wanted to like this tires but impossible each tire lasted less than 100miles
Thank you for your feedback.
Excellent tires
Unlike some of the reviewers, I've had nothing but great success with these tires. I've had them over a year now without any drama - or flats - and used them on the 450 mile OATBRAN ride across Nevada. I bike out of Tucson, so you know the conditions are rugged. Highly recommended!
Thank you for your feedback.
Cycling Enthusiast
Denver CO
1 of 5 customers found this review helpful.
First go at tubeless
Purchased a Mavic tubeless wheelset from REI and it came with these tires. They puncture very easily and on every ride my rear brake caliper and under my seat are covered with sealant from the tires. Have only owned them for a couple months and have failed to seal twice. Today I just inserted a spare tube on my ride after two CO2 cartridges failed to seal the deal. I ordered a Hutchinson Fusion 5 Pro with kevlar to see if they are any better. I may have to go back to my Gatorskins and tubes at this rate.
Thank you for your feedback.
Cycling Enthusiast
Albuquerque, NM
1 of 1 customers found this review helpful.
First Tubeless
These are my first tubeless tires. They are more expensive than regular tires, but match up to my mavic wheels perfectly. They have sealed on all but one puncture. I love having the peace of mind of knowing that these are the right tires for my wheels and that 95% of the time I will be rolling after a puncture without incident. They are also easy to remove and put back on.
Thank you for your feedback.
10 of 10 customers found this review helpful.
Quick, grippy and long lasting tubeless tire
Ive been riding and racing bikes for over 35 years, currently do about 150-200 miles a week. Ive ridden every type of tiretube, tubular combination, but this is my first venture into road tubeless. My last favorite clincher set was Conti GP4000SIIs.
The reviewer that said these ride like wet leaves could it be possible that you were on the old version of this tire? They didnt start with the new Storm 11 compound till around early 2017, you claimed to be riding on them a few years. I do a lot of fast decents, and have multiple criterium races under them, I can say without a doubt these are some of the best handling tires Ive ridden on. Equal too, but probably a little better then the top Continental and Michelin tires. I would say the same for rolling resistance and wear as well. Ive got about 2000 miles on these and the rear is barely looking like I might need to replace soon. I run both tires at 90psi, Im 170lbs. I have the Cosmic Pro Carbon UST wheels.
Now for the important part (punctures) At first I was just running the Mavic sealant (1.5oz) per tire. I did have one big puncture that wouldnt seal over 60psi, it kept breaking loose at higher pressure, but would eventually seal at the lower pressure.
I ended up putting a plug in the tire, and had no issues since.
I also switched to the Orange sealant endurance brand, since this was getting great reviews for higher pressure tires and larger holes. Ive had a total of 5 potential flats that the tires sealed and got me home. Goathead sticker, staple, small nail, all sealed.
The other day I was on the trail, and someone had deliberately broken multiple bottles, probably in an attempt to sabotage cyclists -( it was dark and I couldnt see them till I was right on it. Both tires punctured, -( but within 10 seconds they both sealed, with very little pressure loss, and I was on my way. I actually started laughing because their attempt of trying to flat me was foiled. I thought to myself if I was on my previous tire setup, I would be on the side of the road fixing 2 flat tires, in a relatively bad area, in the dark. So, needless to say, I will never go back to running tubes, as long as these keep performing the way they do. So far, the Mavic UST Yksion tires have never left me stranded, grip great, wear great and are super easy to mount. Great job Mavic!
This rolling resistance review backs up some of my claims
httpswww.bicyclerollingresistance.comroad-bike-reviewsmavic-yksion-pro-ust-2018
Thank you for your feedback.
Competitive Racer
Sacramento
4 of 4 customers found this review helpful.
Very good tubeless tire
First, those reviewer stating theyve used for years are not talking about this tire. This tire came out June 2017, and, most only have a few months of use. They roll fast, grip is great and wear decent. They do cut a little bit easily. Ive used most race tires and give then a 910. Running tubeless on the new mavic wheelset. 85 psi. I weight 175 lbs.
Thank you for your feedback.
0 of 14 customers found this review helpful.
im surprised people like these...
Sure they set up easy as TL but that is becoming less and less of a problem as TL becomes more prevalent. I rode these a few years back when Mavic first came out with them (and put them on all their road wheels). They are by far one of the slipperiest tires I've ever ridden. Even at 80psi they rode like wet leaves. Im sure they excel in some way but not in the way an $80 tire should excel in all ways.
Thank you for your feedback.
Cycling Enthusiast
Orem, UT
9 of 9 customers found this review helpful.
Just right
I've ridden many road tires over the years, from 23mm, 25mm, 26mm, and now these 28mm tires. Race tires, comfort tires, and gatorskin tires. I've also used Hutchison's and Bontrager's first entry into tubeless, both were epic failures with a 100% failure rate (as diagnosed by the LBS) with about 16 tires each, between a friend and I. I've been running the now 2-3 year old Bontrager 26mm R3, which are good tires.
The Bontrager R3 tubeless is a great tire, but seems to wear quickly. The rubber on the Yksion is a bit harder, and seems to not wear as quickly over the first 200 miles as the R3. The Yksion tire is not as hard as the Hutchison, but its difficult to tell how much, given I ride the 28mm at 12PSI lower than the 25mm Hutchison.
Im running these tires on the 2018 UST Ksyrium Elite wheels. Descents down steep mountain passes and cornering are noticeably superior to my Bontrager Race wheels and R3 tires.
The tires do require sealant. While the bike was being built, the tires nearly went flat in 1-2 days. After applying sealant, riding and a second pump the third day, theyve lasted a few weeks.
I have yet to experience a puncture with the Yksion. The Mavic sealant is rated well, and has been easier to clean up than the Bontrager sealant. Also appreciate that Mavic does not nickel and dime you with valves, rim tape, sealant, spoke wrenches, valves, valve wrench, and tire levers. All included with the wheels!
Best of all, these tires do not require dish soap, two sets of tire levers, tire jack, and compressor to install. One tire lever did it for me, although you must follow the instructions.
FYI Mavic matched tire and rim production tolerances, so these tubeless tires may only be compatible with the right-sized Mavic UST rims, according to Mavic support.
Thank you for your feedback.