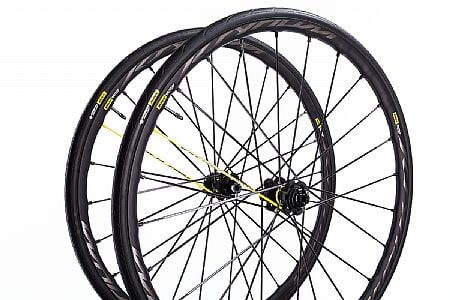 Cycling Enthusiast
MD, USA
Fantastic wheelset
OK, I guess I am a Mavic Ksyrium fanboy of sorts having used them since 2003 when I got my first set.... which I still have and which is still usable after 50,000 miles. This new set I just got for my Lysnkey GR300 gravel bike to improve road capability since I find myself riding that bike a lot on the roads lately. I already had a set of Mavic Ksyrium AllRoad Pros with their 40mm tires. That is another fantastic set of wheels.
Everything about these is great. I love the blind spokes and sealed air chambers so no stinikn' rim tape necessary. The flat Zircal spokes and the rims are very strong making for a bullet proof wheel.
The only issue I had was that I wanted a higher volume tire so I mounted 28mm Continental GP5000 tubeless tires. Getting them on was a bear. Whether the wheels are a tad big or the tires are a tad small, who knows. I wish the industry would settle on and follow more precisely more exact UST standards. I did need to use my air compressor to seat the beads. But the ride is fantastic. Roadside flat repair with a tube might be difficult but should be doable. But I don't expect to get many flats.. pinch flats will be highly unlikely and the sealant should fix small punctures.
The Mavic 25mm tires look pretty good and I'd try 28s if they make would them. Maybe those would be easier to mount than the Contis.
Thank you for your feedback.
1 of 1 customers found this review helpful.
Tubeless Convert
Simply a high quality, high performance, product. The tires fit perfectly. The wheelset includes everything for tubeless setup. The tires come seated. The valve stems are installed. Just add sealant and inflate.
Use ALL of the provided sealant! I really like how the tires feel on the road. The tire volume is average to small for a 25c tubeless. Which is perfect. It is not a wobbly feeling balloon. Confidence in a 35mph hard decreasing radius corner. Feels awesome running down the access road at 49mph solo. Noticeably easier on the climbs than wider rims.
Rides naturally in a straight line without thinking, unlike some aero wheels with high volume tires.
Thank you for your feedback.