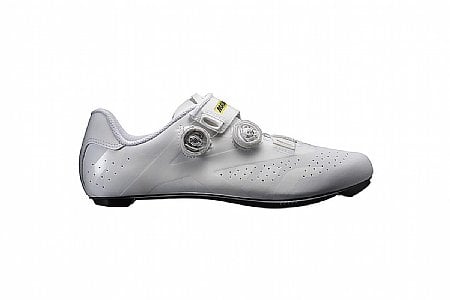 Cycling Enthusiast
Mountain West
Great shoe for B-C width foot
Ridden 2-300 miles so far.
The only initial issue was experiencing hot spots over 40 miles; I played around with insoles and went back to the included (tiny, flimsy) insoles and things are better. Please note: this is an ongoing issue for me with 5-6 pairs of road shoes, NOT only these.
Good to great power transfer; I would describe the overall 'fit' of the shoe as moderate trending to low volume. I have higher arches and measure a "C" on a Brannock Device. These feel ever so slightly wide, but then I am not tightening to the extreme due to the hotspots.
Ventilation and adjustment are great; they even had a long ride in the rain and cleaned up well.
This shoe compares well with others (Fizik, Specialized) in the price range around the collar and with the heel cup. The collar is softer (nothing more annoying than shoes that have a super-stiff tongue that jabs into the ankle), and the heel cup is not super-present, but it does provide support.
There are a lot of good shoes in this price range; I'd say that these are a good choice, especially if you know that you fit Mavic's lasts.
Thank you for your feedback.
2 of 2 customers found this review helpful.
Great Shoes
I've had good experiences with Mavic shoes, particularly with the shape and fit of their soles. So I naturally went with these. I chose the black ones. Their finish is spot on. Comfort is great, but I had to do some insole experimentation as hot foot was a major problem until I cut the insoles to allow room for the balls of my feet. They fit snug around the knuckles. I think this is normal break-in process. They look great. Plenty stiff and supportive. Happy with them.
Thank you for your feedback.
Cycling Enthusiast
New England
Nice shoes. Fit a bit smaller than the Pro Road shoes from 2012
I like these shoes. Ordered same size 44 as my 10 year old Mavic Pro Road shoes. These new shoes fit a tad smaller, but still fine. The Boa dials are very nice. Easy to tighten and release in small increments and easy to pop up both dials and pull foot right out when taking them off. I tried waiting for a sale, but that never came. I paid full price, but used some BTD points to bring the price down.
Thank you for your feedback.