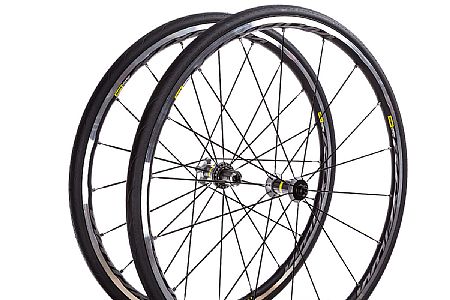 Daily Commuter
Chicago, Il
1 of 2 customers found this review helpful.
Tubeless FTW!
I decided to go tubeless 2 years ago with Campy Zonda 2 way fit. They failed under warranty and Campy was unable to replace with a 2 way fit version so I picked these up as a replacement. They have been great so far and once the winter breaks I'll be putting 26 miles a day on them commuting. Plus these come with tires.
Thank you for your feedback.
Great price. Great product.
This was my first tubeless setup and Mavic made the transition as easy as can be. Ive heard stories about tubeless setup nightmares. This wheelset came with the tires already seated. Although Ive heard that Mavic has made the process as simple as traditional tubed tires.
My first race on them was Tour de Donut. Enjoyed the fact I could run lower tire pressure being 200 lbs. Averaged 20mph no problem for the race. Along with eating 19 donuts, I secured the podium and won my first TDD.
Anywho, love the wheelset and tires. 200g lighter than my older Zipp clinchers. Glad I converted.
Thank you for your feedback.
2 of 3 customers found this review helpful.
Cheap spokes!!!
I bought a set of these to replace the set that came with my Scott CR1. In les than a year the spokes turned to rust! I returned them to my bike shop. They contacted Magic, who agreed to replace the spokes. My shop suggested I coat the new spokes with Verathane. Within a year the rust was back! My old set lasted 10 yrs with no rust. If you live anywhere but the desert dont buy!
Thank you for your feedback.