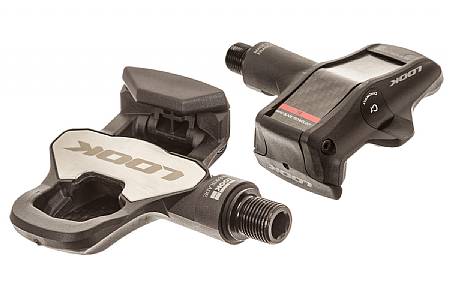 Competitive Racer
Brooklyn, NY
4 of 5 customers found this review helpful.
incredible improvement over the original blade!
I had the original Blades, and have always loved the look and feel of these pedals. The lack of conventional metal springs is naturally appealing, and the innovation of taking advantage of the tensile strength of carbon is really cool. Anyway, I bought the new Blade 2 and I have to say that the innovation imagined in the original Blade is realized in the newer model. One weakness had been that the asymmetric design puts ever so much torsional stress on the pedal body, which over time leads to less pressure in the system. In other words, it was noticeably less grippy over time! These new pedals have a wonderfully audible click into place, and the feel is secure. No likelihood of popping out in the sprint in these bad boys.
Thank you for your feedback.
13 of 14 customers found this review helpful.
Nice update on Keo 2 Max
I've been an avid Keo 2 Max user for several years, and took a chance on the Blade 2 when BTD ran a daily special. They worked fine with the Keo cleats already on my shoes, so all I had to do was swap out the pedals and I was ready to roll in minutes. I don't feel much difference between the Blade 2 and Keo 2 Max, though the Blades are marginally lighter. Blade 2 stack height is slightly lower, so I did have to adjust my saddle just a tad-not a big deal for me, and for some, this could be a selling point
One noticeable difference is the Blade's soft clip-in. Keo 2 Max's snap loudly when the cleats engage, so you always know when your feet are locked down. In contrast, the Blade 2 requires a full-force push or pedal downstroke to engage the cleat, and the pop is very subtle. This isn't a major concern for me and I got used to the difference very quickly, but this feature might annoy some people.
Lastly, you gotta buy the Blade 2 with pre-configured spring tension. 12nm is fine for most mortals, though you might need to go bigger (16nm) if you mash out the megawatts and have concerns about accidental unclips during bunch sprints.
Overall, the Blade 2 is a nice upgrade from cheaper or older Keo pedals. After putting more than 1500 miles on mine so far, I have no complaints and strongly recommend them if you can buy them at a BTD promotional price.
Thank you for your feedback.
Great pedals! Sleek, light, and stiff.
I needed some pedals for my Tri race bike, these worked perfect. Nice large platform with aero bottom. Very light even with the chromoly spindle as I didn't want to drop the extra hundred on titanium. The 16 Nm need a little extra force when twisting out compared to that of a garmin power pedal which is a Exustar brand (great pedal too, btw), but no big deal, it becomes just as natural as you think it should feel, just a little tighter at first when coming from a typical spring pedal. These pedals have great clearance when cornering. They are stiff, for hammering down. They look sweet! Interchangeable carbon springs if you want. Bike Tires Direct is freaking awesome, they price matched and I got a great deal. I have shopped with them for years and they consistently had the best prices and fastest shipping on so many great products. Buy these pedals from Bike Tires Direct!
Thank you for your feedback.
Competitive Racer
Lancaster, PA
12 of 12 customers found this review helpful.
Lightweight Look
I've had these mounted on my CAAD10 for about 5k miles. These are the lightest Look pedals I've since I started using Look in 1992. They have a decent platform, click in securely, and spin nicely.
I'm not a fan of two attributes the unweighted balance (these pedals will not rotate to a consistent location since there is not enough weight) and the sharp outside edge.
Unlike previous Look models, there is no consistent way the pedals rotate so you will be learning foot dexterity to position these correctly to clip in. These pedals would not be suitable for a crit racer unless you consistently pre-position each pedal prior to the start (not terribly difficult, but who remembers to do that before every race?).
The sharp outside edge caught me by surprise one day when I clipped out to stop suddenly at a light. When I finished the ride I felt blood running down my leg from a long scrape from low on my calf. When this happened again I checked the pedal and found a very sharp edge on the outside edge closest to my calf when standing astride the bicycle. I filed it down a bit to dull it some but it is still can bite.
Thank you for your feedback.
Cycling Enthusiast
Delray Beach, FL
2 of 7 customers found this review helpful.
Upon further review...
See my previous review. After riding these for several thousand miles I finally reached the point where constantly looking down when leaving a stop to see the pedal orientation, flip it if needed, then align the cleat to the required angle to clip in...I finally listened to my riding buds who've been on SpeedPlay for years and switched. I should have done this years ago...there is no 'right side' to the pedal...I don't need to look down for any distracting orientation and snapping in is a breeze. I got SpeedPlay specific shoes and enjoy lower 'stack height' and increased cornering as well as larger cleatshoe interface area. There's no going back to single sided pedals for me.
PS Doing 200miwk avg...flipping pedals IS...was...a bid deal.
Thank you for your feedback.
Cycling Enthusiast
Kansas City
5 of 6 customers found this review helpful.
Keo tip
I have ridden KEO pedals since they came out and one thing I have noticed is the grip cleat is more difficult to clip in at stop lights, etc. The grip material will sometimes catch on the pedal as you are engaging it and you have to try several times to get clipped in. I switched back to the regular KEO red cleat without the extra grip material and it is much easier. You just have to be more careful walking around at the coffee shop.
Thank you for your feedback.
Cycling Enthusiast
Boulder, CO
3 of 3 customers found this review helpful.
Light, secure, hard to orient for clicking in
Finally made the conversion to some modern pedals after many years on Crank Bros Quattros. Decided to try these Keo Blade 2 because of wide pedal platform and light weight - and a good sale price. Read about the problem with spinning resistance and difficulty orienting for cleat entrance. After about six rides, I like the wide platforms - good pedaling stability, no hot spots. I do have the problem of a lack of spin resulting in tricky pedal orientation before clipping - takes a few extra seconds of concentration to get the pedal around in the right orientation. Hopefully, pedal will spin to good position as the bearing seals wear a bit. Will also try some lubrication, perhaps.
Thank you for your feedback.
Cycling Enthusiast
Delray Beach, FL
4 of 4 customers found this review helpful.
The latest version has improvement but trade-offs
I had the previous version (2013) of these but went down hard and broke one. The changes to this pedal mentioned in the description are good but the smaller stack height has made it significantly more difficult to get clipped in with my Look Keo Grip cleats. Once clipped in the benefits of upgrades mentioned above are welcome. I would trade off the improvements of this current version to get back the 'relative' ease of getting clipped into the previous. But, since those are no longer available I think these are the best pedals on the market now.
Thank you for your feedback.
Cycling Enthusiast
Chicago
Cycling Enthusiast
Prescott, AZ
4 of 4 customers found this review helpful.
Excellent design.
This new design makes this pedal better than ever. It always seems to be in the right position whenever I need to start again while riding in traffic. Great looks and lightweight too!
Thank you for your feedback.