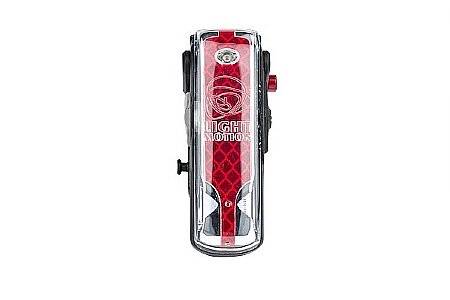 0 of 1 customers found this review helpful.
SUPER Bright!
I also have a Light and Motion Vis 180 Commuter tail light. I like everything about that light, except that it's pretty ugly. When I got an electric bike that I knew I'd be riding in town quite a bit, I decided to pick up this Vis 180 Pro. If visibility is your primaryonly concern, this is a great light. It is OBNOXIOUSLY bright. For day time riding, I quite like the HighBlinking mode. It's quite noticeable, even on a sunny day.
My complaints
There are 4 modes barely visible paceline mode, really bright flashy mode, really REALLY bright flashy mode, and really REALLY bright steady. There is no mode that is visible with any kind of subtlety. It's pretty damn obnoxious.
It's fairly bulky, heavy, and ugly.
I'm finding the run time annoyingly short. Perhaps it's just as advertised, I don't know. I just find myself often thinking, 'Seriously, it's dead again?!'
I do like the side visibility. Many lights do have side visibility, but I like that this one is orange. I think it helps other vehicles more quickly understand the orientation of my bike.
I feel like the Vis 180 Commuter is a better choice for most people. The ONLY advantage this offers is that it is brighter, but it's probably a bit brighter than it needs to be.
Thank you for your feedback.
Cycling Enthusiast
Mesa, AZ
1 of 2 customers found this review helpful.
Not overly impressed
First, the instructions are poor, only illustrations. Took me quite some time to figure out how to get the light detached from the packaging. It has a red button that has to be pushed to release the pivoting mount arm. For me, the the mounting arm is either too tight or too loose on my saddle bag's attachment band. I ride almost exclusively in daylight and prefer a rear light that alternates between an occasional bright flash and quicker less bright flashes. While the intensity is adequate, this light changes intensity too slowly for me. Not the attention grabber for which I was looking. The cover over light mode button came off before the first ride. Had to send it back. It was replaced, but still cost me $10 for shipping. Not sure how I managed to do that and I don't think it is a design flaw, but still... Haven't used it enough on rides to comment on the run times. I ride with two rear lights 99% of the time. If one rear light is good, two are better.
Thank you for your feedback.
2 of 2 customers found this review helpful.
Well engineered with the best visibility
It took me a while to figure out the international picto-directions, but discovered the strap is as well engineered as the light. The strap and light lock together and it takes some doing to separate them.
The light also has red button that releases the ratcheting lever. I have clipped to my rear pocket, backpack, seat bag and even brake wire (not housing it might come loose).
It really does have 180 of visability and the amber is as noticable as the red. The slow pulse is a nice change from giving people a seizure. It's bright enough to be seen even when pointed at the ground.
Kind of expensive, but I have no idea where my $40 blinkie ended up, replacing that would have cost nearly the same in the end. It's definitely not the budget minded choice, it's worth it to me to be seen.
Thank you for your feedback.
Cycling Enthusiast
Carmel, IN
1 of 1 customers found this review helpful.
Be Seen, Be Safe.
Drivers approaching me from behind have no trouble seeing me with this light day or night. I especially like the pulsing, blinking mode. I have noticed drivers being much more considerate as they overtake me.
Thank you for your feedback.