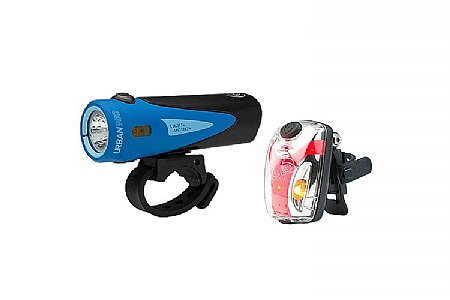 Daily Commuter
Portland, OR
Whoa, that's bright!
In case you don't speak lumens, this front light is BRIGHT. Personally, I'm of the opinion that with visibility, it's going big to get home (safely). So getting the brightest light just seems like a no-brainer to me. And in rainy dark Portland, this light helps make sure I can see what's in the road ahead of me and that others can see me. Check and check.
The rear light is perfectly fine, no complaints there. Well, actually, depending on how you have your seatpost set up (height, saddlebag, rear panniers, etc), the attachment mechanism of the rear light does leave a little to be desired. It's rather bulky, the strap is awkward to tuck out of the way, and although you can tilt it up or down, something just doesn't feel quite perfect about the angle. And the on-off button could have better tactile quality. But whatever, it's a big bright red light, right? 'Nuff said.
The micro-USB charging aspect is pretty slick, although to be fair that's basically industry standard nowadays. So why would you buy a new light that requires batteries? Seems silly.
Anyway, if you can afford these lights - especially the front light - go for it.
Thank you for your feedback.
Buttons hard to activate
I purchased these as high powered see me lights for daytime use. While they are very bright and visible, I found the control buttons hard to use, and the flash mode hard to activate on the front light. I purchased a Night Rider 850 as a replacement and found the NR much easier to operate and the flash mode mode much more effective for daytime use.
Thank you for your feedback.