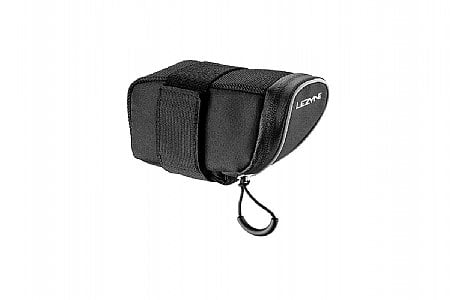 Cycling Enthusiast
N.Michigan
1 of 1 customers found this review helpful.
Quiet, well thought out saddle bag.
I have used this smallmicro bag on my road bike and the medium version on my gravel bike for years.
In the small I carry a tube, Lezyne levers, patch kit , dynanplug racer, small ziplock with valve cores,spare plugs, tube self adhesive patches, and core remover(this fits in the small pocket under the top. There is a pocket for every item and the tube goes in the center.
It compresses nicely against the saddle rails and is quiet.
One great feature is the outside pocket under the bag for the multi-tool. You can pull out the tool without undoing the bag.
This bag would be perfect if it was waterproof.
Thank you for your feedback.
Cycling Enthusiast
SE Mass.
Cycling Enthusiast
Los Angeles, CA
0 of 2 customers found this review helpful.
Micro Indeed...
I love Lezyne products. Like most of their products, the quality of micro caddy is great. The only problem is that the micro caddy is micro indeed. Although it's a great size for small road bikes, it could not hold much. There are pockets inside the saddle bag for your tools, levers, and such, however, they couldn't fit my tools and my levers inside those pockets. With a small multi-tool, tube, and pedros levers inside the bag, I couldn't fit a CO2 cannister and head. The bag would work fine if you supplement it with a bottle keg, handlebar bag, etc., the bag alone wouldn't be enough for me to be self-supported on rides.
Thank you for your feedback.