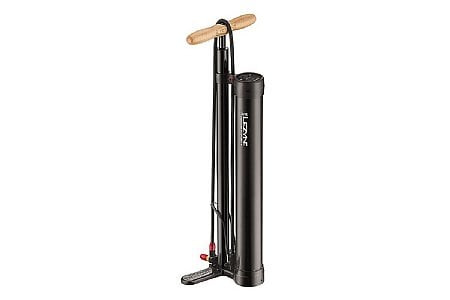 Cycling Enthusiast
Kenai, Alaska
4 of 4 customers found this review helpful.
Great Pump, should have purchased it a long time ago.
I set up tubeless cyclocross tires on new wheels with this pump, and it was a pleasant, easy, fun, and clean experience. The reservoir (tubless power system) makes setting the tire simple. The chuck is really nice. apart from the quality look and feel, I like that it snuggly screws on the valve. The hose is also longer than a standard pump, which I like for when the bike is in the stand. The digital pressure gauge is a nice addition as well. If you change tubeless tires at home, this is a great tool to have.
Thank you for your feedback.
Competitive Racer
Portland, OR
1 of 1 customers found this review helpful.
Works Very Well
I grew tired of trying to pump up tubeless tires with a regular pump so I did some research and ended up going with this Lezyne floor pump. I love the digital gauge that allows me to see exactly how much air I am putting into the tire. I've found that if I want 50psi in the tire then I fill the floor pump chamber with double the amount of air I need... so I need 50psi, I fill the chamber to 100psi. Once you release the air in the chamber to your tire it fills very quickly, and you get to hear those lovely popping sounds that freak you out and comfort you all at the same time. Great pump, Solid construction, works exactly as needed.
Thank you for your feedback.
Cycling Enthusiast
Los Angeles
7 of 7 customers found this review helpful.
Big Air and Powerful
What I like it's sturdy. The air inflates into the tire almost silently when in standard pump mode which almost made me believe it wasn't working, but it was. The digital readout is clear and accurate. The hose is long and it has plenty of distance so you're not crammed up against the wheel. I pump the chamber up to 120 lbs and it delivers 60psi in a whoosh into my 700-25m tires. This is flawless performance. I had no trouble at all operating the lever to release the compression chamber. No complaints.
What I don't like it's big, I mean big for a pump. Probably all these tubeless tire inflators are, I don't know. And it's expensive. But all in all, if it works every time, which this promises to do, it's a sound investment. I have other Lezyine products which work flawlessly, which is why I went with this one over a Topeak or the equivalent.
Thank you for your feedback.