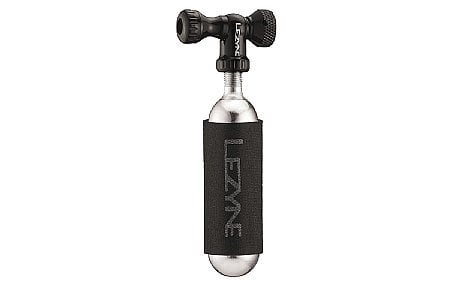 Works great!
Used it for the first time today and it worked like a charm. Everything work just fine. The fact that you can use a dial to control the inflation is really useful. My last CO2 device is push pressure based and it was hard to use in practice. Another great touch is the cartridge sleeve that it comes with, you really need to hold the freezing cartridge.
This is one of those devices you don't use often and when you do need it you want it to just work.
Thank you for your feedback.
Daily Commuter
Memphis, TN
No sweat, time-saving device
Follow the instructions and it works like a charm. Be careful you don't over-inflate the tube like I did. The 16g cartridge fills a high pressure tire, but you don't need all of it for a hybrid or mountain tire. Be ready on the valve.
Thank you for your feedback.
2 of 2 customers found this review helpful.
Beefy, well made, easy to use
Thread on a threaded 16g co2 cartridge. Press the control valve onto your tubes valve stem. Open the control valve slowly until you hear air go in, then open the valve all the way. When your tire is inflated turn the control valve shut. I used this in my garage for practice. First time on the road, I went kinda brain dead. I forgot to turn the valve off after my tire was inflated. I lost a little bit of air. Second, it was a cold day and the control valve stuck to my presta valve and I had to yank it off.
It comes with a sleeve to put on a cartridge so your hands won't get frost bite and stick to the co2 cartridge (ouch).
Only downside is that is takes two hands to use this. You have to lean your wheel against something, or put your wheel on your bike and tip it upside down, then you can use two hands. Just make sure your tire is completely seated. Another thing is this thing is so small I worry about losing it.
Kinda pricy for it's size. But it's worth it when you are standing on the side of the road with a dreaded F.
Thank you for your feedback.
Cycling Enthusiast
Thousand Oaks, CA
2 of 2 customers found this review helpful.
Excellent size.cylinder sleeve &easy to use
Very satisfied with size that easily fits in small saddle and easy to fill tire. Others I have had were cumbersome. Good price and shipping...bought another for our mountain bike.
Thank you for your feedback.
Cycling Enthusiast
honolulu,Hawai
Cycling Enthusiast
Essex, CT
Win win win win
I like this because (1) it is reasonably small so it fits nicely into my saddlebag, (2) being able to regulate the CO2 flow is a plus, (3) the neoprene sleeve keeps you from freezing your fingers to the CO2 cartridge when it gets cold as the gas flows out, and (4) it's not too heavy. Hard to imagine what else one could want from an inflator. I got the opportunity to test mine when a 1 self-tapping screw threaded itself through my rear tire, tube, and inner surface of the rim the other day, and it worked perfectly.
Thank you for your feedback.
Cycling Enthusiast
Bear, Delwarare
Fast fast relief when you are feeling flat.
I avoided ALL CO2 products because of a bad experience in the early evolution of these systems. I figured you can't go wrong with an old style hand pump. This CO2 inflator appears to be idiot proof. Believe me I would know. I would recommend this product in a heartbeat.
Thank you for your feedback.