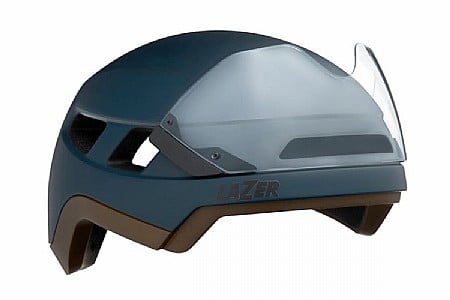 User submitted reviews
Review by No spandex 4 me

Daily Commuter

Virginia''s DC suburbs

5 of 5 customers found this review helpful.

Excellent for the ebike commuter

I added a 1500 watt Bafang motor to my hardtail, and quickly realized that I needed a few more things out of a helmet when reaching speeds over 30 mph and commuting on the road daylight & nighttime in all 4 seasons and weather. The MIPS rating and the other reviewer's story about taking a bonk on the noggin while poodle-dodging certainly helped cover the all-important impact protection part of the decision. The not-too-bright / not-too-dim light on the back that pulses (or stays on) sure helps with visibility in tandem with my rear light. A-holes still buzz me in the passing lane at 45 mph in a 35 mph zone, but at least have time to not run right up on my rear or try to "share" my lane. The clear visor was also a must for me, and this one is very handy. In the dark, rainy, or overcast days the 30+ mph wind, raindrops, or suicidal bugs stay out of my eyeballs. In bright sun, it just flips upside-down for use with mirror shades and stays on magnetically in both positions with a firm hold. In really cold pre-dawn temperatures, there is room enough to wear a Carhartt Fleece 2-in-1 hat (helmet liner cap + optional baclava type mask) under it and the helmet cinches as snug as without. The advertised sizing seems accurate to me.

The only thing I wondered about when buying this was if it would make me look like a member of the SWAT team or something. No worries, it doesn't look that imposing in real life.

I have used it 5 days a week for 2 months in late summer heat and early fall below freezing temps, rain and shine.... in traffic. Highly recommend. ....But definitely get some sort of helmet liner and hose it down with a waterproofing silicone spray if you have to ride in the cold and wet.

Thank you for your feedback.
Review by kchaudhu

2 of 2 customers found this review helpful.

I love it - Awesome helmet and would save your life for sure

I live in East coast and bike all year around - I wanted a winter helmet.

I tried out many Giro ski helmet - They work - but your eyes are exposed .. so I was looked for a integrated helmet with a lense visor to protect by eyes from wind and road dirt and wanted MIPS protection too.Googles are easily lost.

Feed back after 500 on road miles on them

* They are slightly heavier

* Lense cover your face and glasses are fine under the visor lense.

* Protection - I did crash at very high speed to save a wandering poodle on the tarmac. While my body was bruised - Nothing happed neck up . Did i say - I landed on my head! . MIPS protection really works.

* Is the worth the cost - I have a similar( looking) very lihjt helmet from ebay - The wind noise from the Visor drives me crazy - Vote for "Lazer Urbanize MIPS E-Bike Helmet"

* What this helmet lacks - Something it advertises - Busy actually optional - Winter protection kit - A pair of eye muffs - This one is hard to get from Lazer.

Thank you for your feedback.
Review by Scott

5 of 5 customers found this review helpful.

Nice helmet but sized too small

Great helmet! Love the visor and the MIPs protection. Keep in mind that if you usually use a medium, order the large because they're sized entirely too small. Also these are heavy helmets and you will feel the weight.

Thank you for your feedback.