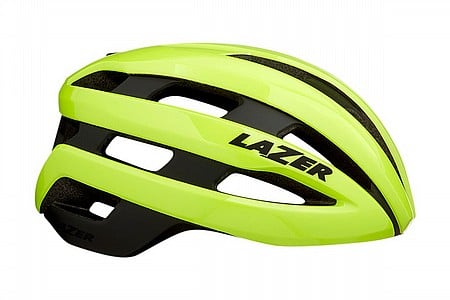 3 of 4 customers found this review helpful.
Perfect!
The most important thing: this helmet gets a fine star rating from Virginia Tech's rigorous helmet testing program. It's one of the safest out there, and it doesn't cost an arm and a leg and your first born. The color I bought, I forget the name, but it had 'sunset' or something in it, is a kind of iridescent blue with pink running through it. If you're averse to pink, don't get that color I like the color myself. The helmet is comfortable but seems to run big. I bought the smallest size available and it is totally cinched down. Yeah, I have a pin head, but I've seen smaller heads too, just be aware. All in all a great helmet. I bought mine on sale.
Thank you for your feedback.
4 of 4 customers found this review helpful.
Fit round head shape
The circumference of my head is 59 cm and the shape is more round oval, meaning often the width of helmet is more limiting than the front-to-back length for me. I have been using Lazer Z1 in size L for the past 3 years and while overall the helmet is great, the fit is OK but not great. Lazer's helmet size chart lists this Sphere helmet as "all fit" rather than "oval fit", which I took as meaning it'd be wider and larger. It turns out to be a great fit for me in size M. I do have to loose the chin strap to its longest, but given my head circumference is at the upper limit of size M, this is to be expected. I also have the urbanize helmet also in size M for daily commute, which I feel is slightly roomier even than the Sphere.
Thank you for your feedback.
Cycling Enthusiast
Seattle
2 of 2 customers found this review helpful.
Fits Like A Glove
I wish I had found this helmet earlier. It fits like a glove...so much better than my old Giro. My head is size 59cm and the M fits perfect. I also bought the Aero Shell since it will soon be raining for the next 8 months. Love how it just snaps into place over the helmet.
Thank you for your feedback.
Cycling Enthusiast
Anchorage
Love the Look and fit of this helmet!
I love the look of my Red helmet.
It fits great and feels good on my head as it's one of the most comfortable helmet that
I've worn. It's easy to adjust the helmet while riding as the nob is on top and it moves easily.
It's a MIPS helmet so I feel safe as my last helmet cracked after hitting my head on the pavement.
Thank you for your feedback.
Cycling Enthusiast
Walla Walla, WA
3 of 6 customers found this review helpful.
slid back on my head
The Lazer was highly rated by Virginia Tech so I took a chance. Unfortunately the helmet kept sliding on the back of my head exposing my forehead. I tried every adjustment and adding some foam to the back of the helmet to better secure and tighten down. The chin straps seem to be not be well positioned for a proper fit. I looked like Primoz Roglic on his TdF time trial in 2020. Returned the Lazer for a better fitting Giro Cinder.
Thank you for your feedback.