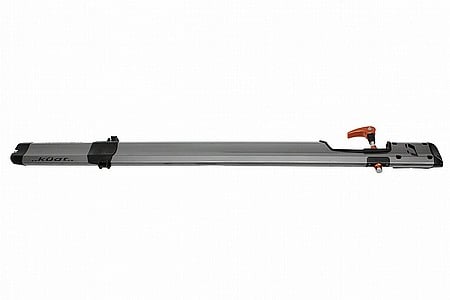 User submitted reviews
Review by downhilljcd

Kuat = Qaulity

After many months of waiting I finally received my two TRIO Racks just in time for a Mountain biking road trip. These racks are stable and provide peace-of-mind while driving down the highway at 75mph and on bumpy forest service roads. Kuat actually makes the important pieces out of metal (unlike other manufacturers that make the most important clamping mechanism out of plastic and don't honor a lifetime warranty). I'm a convert to Kuat.

Thank you for your feedback.
Review by chowdog

Stylish but awkward for mtb

Nicest looking roof rack there is, and nice options for either road or mtb. However, it's a little awkward mounting a thru-axle mtb up there as you need to feed the axle through while balancing the bike to line it up. There are other brands that simply clamp down on the axle which is much safer and easier to do.

Thank you for your feedback.
Review by Anonymous

1 of 1 customers found this review helpful.

Solid rooftop option

Looked at all the major brands for rooftop fork-mounted racks and this was the clear winner for fit/finish and ease of changing type of fork mounted (from my throughaxle rigs to my kids' and wife's skewers).

Thank you for your feedback.