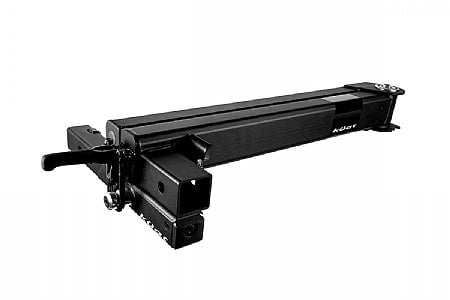 Cycling Enthusiast
San Jose, CA
Best option on the market
The design and build quality of this product is top notch. If you're shopping for a hitch swing, really you're looking to make your life easier and not have to fiddle with things. This product accomplishes that. I can easily unlock and maneuver a heavy load with one hand. The design is such that when it's in the locked position, it is solid. The two faces of the arms come together and are locked against each other in compression, effectively rendering it as one solid connection. There is barely any stress on the arms when it's locked. When it's unlocked and extended (and at it's most susceptible to leverage), the oversized hinge leaves no doubt that you'll be able to move things back smoothly.
If I really want to split hairs, two minor notes:
-The end that fits into your hitch receiver, the hole for the hitch pin is in a fixed place. If your hitch receiver has a fixed hole as well, you are limited in adjustment for "penetration" depth. This is as opposed to some designs that use a slot instead of a hole to allow for adjustability.
-I have this on a Ram Promaster which is quite wide. An option for a longer version of this could be nice to clear more of the vehicle -- when my bikes are on the rack, they hit my van before I'm able to use the full 120 deg extension.
Thank you for your feedback.
Casual Cyclist
Atlanta, GA
2 of 2 customers found this review helpful.
Ok, but problematic for me...
My Kuat rack (3 bikes) is on and off the car at least once a week as I don't like driving around the city with it on. In addition to the cargo area access issues, my Kuat rack adds that small degree of anxiety around town (e.g. for fear someone will clip the 'black and sticking out' rack, or because it impedes the backup camera view). The Pivot solves the cargo area access issue, but makes all the rest much worse ... as it results in the rack sticking out an additional couple of feet and makes installing/removing the rack extra involved/painful. If you're leaving your rack on the car all the time, and don't care about how far it sticks out behind you (perhaps you don't have to deal with city driving/parking) ... I can see the Pivot being good. But for me the added benefit of the pivot is by far killed by the extra hassle it creates. Plan to get rid of it...
Thank you for your feedback.
1 of 1 customers found this review helpful.
Heavy duty, secure and easy to install and use.
I recently picked this up and truly wish i would have done so sooner. I have my 3 bike 1up rack attached to the Pivot v2 and it makes life so much easier in terms moving the bikes out of the way to access the rear hatch.
Thank you for your feedback.