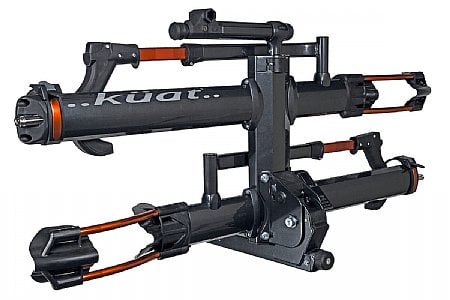 Cycling Enthusiast
Chicago
Great Hitch Bike Rack
I have owned the original Kuat NV and that has served me a great deal in transporting my bike for years. You can mount any bike on this rack from road to fat bikes. Unfortunately another motorist rear ended me and damaged it. I had to get another rack and it was a no-brainer for me to choose the Kuat brand and it did not disappoint with the NV 2.0. This rack is far better overall than the NV. Stable, easier to lock and unlock to the hitch. This thing is solid and has no play up or down, side to side when mounted. My old NV rocks up and down quite a bit. For the price it is well worth it. And by the way, their customer service is top notch. Kudos to the guys at Kuat.
Thank you for your feedback.
1 of 1 customers found this review helpful.
One of the best racks
The only con is the weight. On the flip side of that it just goes to show you how well it's made. The rack locks into the hitch so there is no movement what so ever. Built in lock cables for each bike a plus.
Thank you for your feedback.
Cycling Enthusiast
Vancouver, WA
1 of 1 customers found this review helpful.
If you demand only the very best, Kuat NV 2.0
I've always been a Yakima fan for their quality. This rack is far superior even to the highest quality Yak Racks. It's so well mad I wonder if it's over engineered which has driven up the cost. Sure it is very sturdy but I love that my bike goes on ready to drive in 5 seconds. The cable locks are fairly beefy at 9mm, but I'd never leave a high priced rig out of sight. Still, much thicker than many racks out there. They also have clever details you might miss such as stops to hold the cable locks tucked into place to prevent them from just falling out when setting the rack up for storage. These kinds of things can be a pain if left out at design time.
The double carrier is quite heavy. It seems strange to need a 55lbs rack to hold a 17lb bike, but okay. I really like the hitch securing mechanism designed to remove rack wobble. Most hitch racks have a single bolt to pull the rack to one side of the hitch receiver. That stops side-side wobble but up and down is completely uncontrolled. Kuat designers most cleverly use a steel ball that engages the corner of the square hitch receiver on the inside. This contacts 2 sides of the receiver hole so it does not flop up and down or side to side. And you don't need a wrench to secure it. Brilliant. The finish is also top notch and looks great.
Thank you for your feedback.
Best bike rack out there
I had been looking at this bike rack for a while, and Bike Tires Direct had the best price out there. This really is the best quality, stability, and easy to use bike rack out there. I plan on getting the add-on kit eventually, but I also love that Kuat makes it this way with a 2-bike rack and an add-on, so you can adjust depending on how many bikes you need to take.
Thank you for your feedback.
1 of 1 customers found this review helpful.
Happy!
Did some research and came to the conclusion that the Kuat NV 2.0 Bike Hitch Rack would be the best solution for us. We transport road and fat tire bikes. It's easy to put on the car, easy to fasten the bikes. It's a very solid good looking hitch rack. Very happy with our purchase.
Thank you for your feedback.
1 of 1 customers found this review helpful.
Expensive, sturdy, but has some faults. Otherwise a very good rack.
Nice sturdy rack. No movement in the hitch when internal cam wedge applied. Will NOT WORK with F 150 pick up if you want to lower tailgate. Front tire trays hit and will dent tailgate. You will need to load your truck first and then put on rack and bikes unless you want to climb overside of truck or tailgate to access your bed storage. Bikes are secure when properly mounted. Self stored locking cable not long enough to reach frame of bikes, good only to lock front wheel. Hitch lock ok, but would be better if lock was integrated into knob that you turn to set cam wedge and disengages like the Thule rack. Then a would be thief couldn't just cut locking pin and walk off with whole rack and bikes. Still a very good rack and holds 2 heavy bikes 50 lbs each with ease. No rack is perfect. You have to pick your preferences.
Removed 1 star because cannot lower pick up tailgate with rack on truck and also there could be a better engineered hitch lock to prevent someone with grinder or cutting wheel to cut off lock and walk away with all your gear.
Thank you for your feedback.
Fantastic design with great function.
This rack is pricy but is worth the money. Absolutely rock solid construction. You will never need to worry about enroute damage from bikes rubbing against one another and loading and unloading is really quick and simple. The only down side is weight and storage considerations. In the four bike configuration the rack is really heavy and will add four feet to the overall length of vehicle.
Thank you for your feedback.
0 of 2 customers found this review helpful.
A little expensive but well worth it
I've owned a number of racks over the years and this is by far the easiest to use, the least stressful on the bikes, and the most flexible with respect to frame style, wheel size, etc. I was easily able to fit a fat bike and full suspension MTB bike together.
The rack also has a cool built-in bike repair stand which has come in useful on more than one occasion.
The only problem I've had with it was when my wife ran the car through the car wash the day before we were leaving for a cycling trip and the temperature overnight was well below freezing. I had to get out a hair dryer to warm up the front wheel clamps so they would extend.
Thank you for your feedback.
Competitive Racer
Portland, OR
Cycling Enthusiast
Redding, CA