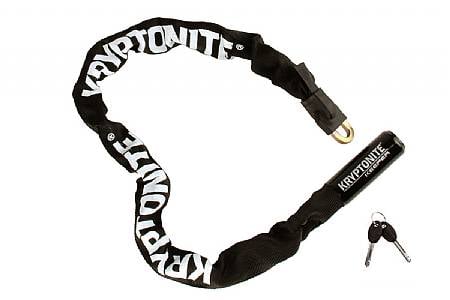 Good chain. Easy to carry
This lock is good for what I need. Lower crime area, locking up the bike during a meal at the boardwalk or my local lunch spot. Easy to carry either wrapped around bars or simply worn over shoulder like a messenger bag. The nylon outside keeps from getting pint damages.
Thank you for your feedback.
Cycling Enthusiast
Cincinnati
the length is too short
Having had my bike stolen I wanted something more robust to lock it up when out shopping. I found the length to be too short to go around your average telephone pole without putting the bike right against it. In other situations, it was just too short to lock it up.
In all a nice lock if only the chain were longer.
Thank you for your feedback.
Good value lock
I was looking for a mid rangepriced lock to keep my bike on my patio. As it is not in the street I didn't go for a heavyweight one. It looks massive which is a good thing that can deceive thieves. It does not click-lock, you have to use the key to close it. The lock area is not very robust. It is a good value for money lock. I wouldnt use it to lock an expensive bike on the street but it would work great for a not too expensive bike.
Would recommend and would buy again.
Thank you for your feedback.
Cycling Enthusiast
Dallas, Tx
5 of 5 customers found this review helpful.
Great Lock
I bought this lock to replace my old cable key lock.
For the price, this is a great lock. Less expensive than U-lock with the same safety, and more length to use on your bike I have found this to work great.
The outer 'housing' on the chain will not scratch paint, the track bike I use it on I custom painted myself and is one of my gems.
Down side I have heard from others using this lock, it is heavy, but I have never minded.
Thank you for your feedback.
Cycling Enthusiast
Detroit, MI
Casual Cyclist
St. Petersburg, FL
2 of 2 customers found this review helpful.
Heavy and Secure but Length is 2-bike Challenged
Solid lock, that even looks great. It's easy to use, although I now must carry another key on my chain. Length is great for one bike, but challenging for our two bikes. We have to position them just so to weave the chain into the typical bike rack. For now, the Kryptonite serves as an excellent repellent for would-be thieves and we bolster it with another longer cable lock, giving rise to yet another key on my chain. Having had our bikes fall victim to downtown bike thieves, we are glad to have the benefit of Kryptonite.
Thank you for your feedback.
Cycling Enthusiast
Boston, MA
1 of 1 customers found this review helpful.
The little cousin of the NYC big chain lock
I like this lock a lot. It's not as cumbersome as the NYC big lock
- It's not as long not as heavy
- The lock is integrated so there's no separate padlock
- It's cheaper!
Due to the shorter length, you're not able to lock both wheels to frame without taking one of the wheels off. This seems like a worthy compromise to save on weight and size from the NYC lock.
I appreciate that the fabric cover protects from scratching the frame.
The security rating is technically lower than the NYC chain BUT to the common criminal, I would have to guess that just the looks alone say, Don't even try it scum bag.
Thank you for your feedback.