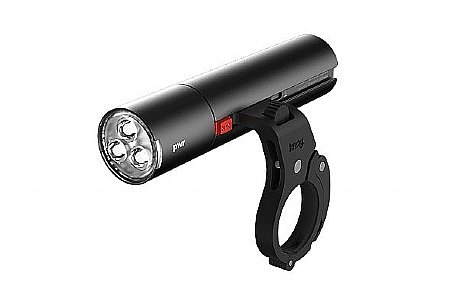 Phenomenal
BTD had an amazing sale at the perfect time. I was considering front lights in the $120 range and got the Knog for less than half. Its hard to imagine a better front light for daytime visibility. Customizable flash patterns and brightness. I have not had to recharge since I bought it two weeks ago. It can charge a phone in a pinch with usb connection. The mount on the bike is solid, though a little touchy to install initially. And it appears bomb proof. Im seen easily and few much safer traveling city roads with this light.
Thank you for your feedback.
Cycling Enthusiast
sussex county,nj
3 of 3 customers found this review helpful.
Fabulous light. Have been told by non-cyclists that it makes me very visible.
I have it in the hanging position on my drop bars. Like that because it doesn't interfere with my hand position on top of the bars. You need to make sure that the light is on really tight so it doesn't vibrate off the holder clamp. Just ordered another one because mine came off (I was on blacktop that was rough) hit the ground, separated at the connection to the battery pack. Got worse when a car didn't see it. Just ordered another one because it is that good a light.
Thank you for your feedback.
Cycling Enthusiast
Portland
Cycling Enthusiast
Roseville, CA
4 of 4 customers found this review helpful.
Finally a light that is incredibly functional and has aesthetics to match!
As soon as you take it out of the box, you can tell that this front light has had some serious engineering behind it. The mount is secure. Switching between different modes is easy when riding. And the Strobe mode is perfect for riding at night, as you get enough lumens to see, and the pulsed flash makes you even more visible to those around you. On my last ride, I foolishly didn't secure the mount to the light properly and had it slip off and crash onto the pavement at 25 mph. It survived with only a few scuffs, thanks to the machined finish that is strong. I can't recommend this light enough! Paired with the Knog Blinder Mini Chippy rear light, you are in safe and reliable hands!
Thank you for your feedback.