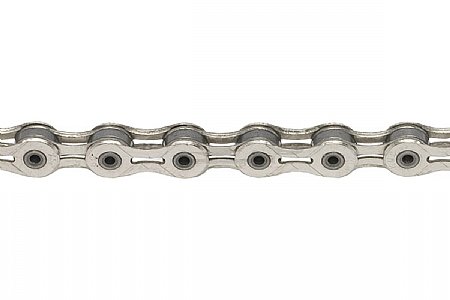 Smooth and quiet
I have used both Shimano and KMC chains on my Shimano Di2 equipped bike. As far as longevity they seem to be pretty equal. The KMC chain is quiet, although probably on par with the Shimano chains. Got a great deal on this KMC so that was the deciding vote this time around.
Thank you for your feedback.
Cycling Enthusiast
New England
2 of 2 customers found this review helpful.
Super Quiet, Smooth and Light
Used as a replacement for SRAM chains. I think it is quieter, shifts smoother and is definitely lighter than SRAM chains. Super LInk connector makes it easier to install than Shimano pin on Shimano chains. Prefer traditional silver but KMC has gold and other bling colors as well. Only downside is regular price - wait for a sale to buy.
Thank you for your feedback.
Cycling Enthusiast
Ontario, CAN
3 of 8 customers found this review helpful.
Unfortunately does not seem to work well with Shimano
I have several 10spd KMC chains, using them on my road and cross bikes, and they have performed great! Unfortunately I cannot say the same for the 11spd version. I switched out my chain almost immediately using my past experience with KMC as the reason, but I must say I am disappointed at its performance. It is noisy and it actually seems to be rubbing a few of the cogs causing some of the actual cog to be worn off! I'm waiting on pins for my OEM Shimano chain and it is going back on, something I never did with the 10spd chains.
Thank you for your feedback.
Cycling Enthusiast
Chicago
5 of 5 customers found this review helpful.
Excellent alternative to Campy record
I have been using the Campy record chain back for several years, and have had no problems with it except the hassle of installtion for the new 11 speed version. I got the KMC as I got tired of the hassle of installing the campy, even though I had already dropped the dough on the campy tool. The KMC performs identical to the campy and the quick link is a real bonus. I just changed out my first KMC after 4,000 miles.
Thank you for your feedback.
Cycling Enthusiast
Atlanta, GA
2 of 2 customers found this review helpful.
Great alternative to Dura Ace. Light. Shifts flawlessly.
I've used the 10 spd and the 11 spd versions. This is a super light chain. Quiet for the most part though there is some noise as expected if you are cross-chained in the big ring.
Thank you for your feedback.
by
chris
(BikeTiresDirect.com Staff)
Vancouver, WA
4 of 4 customers found this review helpful.
Excellent
There are only two reasons to ever suffer through Campy chain ownership and the strange torture that is installation pins and $3,000 chain tools.
1). Campy chains really do last a long time.
2). Some vague belief that nobody else could possibly make a chain that works as well with Campy drivetrains as the Campy themselves.
While 1 is still hanging in there (they really do seem to wear well), after trying the KMC X11-SL, I no longer believe 2 at all.
While I don't have a direct head-to-head, I can tell you the X11-SL was much, much quieter and smoother than the Campy chain it replaced. The difference was incredible, in fact. Shifts, including some highly ill-timed ones on a ride with about 5500' of elevation gain, have been consistent and smooth. At about 700 miles, the chain has been nothing but great.
And the Missing Link is light years better than any replace the pin installation and removal method. Just don't expect the audible click the instructions promise when the two halves engage. Never happened for me, even though the link is definitely engaged. Tested gingerly, could still see a tiny, tiny gap, then rode up a 20% or so grade no gap, locked.
Only a lack of miles and a belief that perfection should be rare keeps me from going with the 5-beer on this.
Thank you for your feedback.