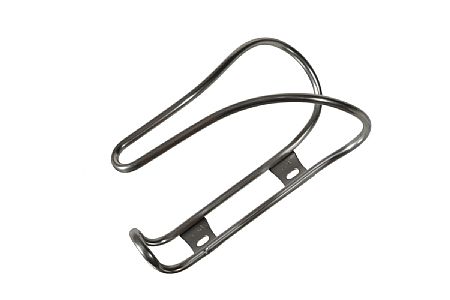 Cycling Enthusiast
Chicago
Super Secure Bottle Cage
Great bottle cage. Using this on my gravel bike to hold the tool bottle underneath the downtube. I use an additional velcro strap to help hold the bottle in place but the bottle cage along is super secure and tight. Stainless steel seems strong and won't break like aluminum or carbon.
Thank you for your feedback.
Stainless steel cages are the best.
You have to look closely to see the design is a little different. I can't tell whether it is better, but it works great. I was suspicious of my carbon cage from the start. It only lasted ten years. Back to stainless steel for me - more durable and a lot less expensive.
Thank you for your feedback.
Holds everything!
I bought this as the third bottle holder to fit under the down tube on my Wi.De. I already had two on the traditional spots, and had to whale on them a bit so I could actually get the water bottles out without a major effort. I had a less stout cage there to carry my water bottle storage unit, but it disappeared after a bumpy ride. Now it�s totally locked down.
Thank you for your feedback.
Perfect
This cage just doesn't let go, I've never lost a bottle or even had one come mildly loose, even on the roughest descents. I use these on my road bike for the light weight and my mountain bike for the good grip. It's lighter than many aluminum cages and can be bent back into shape if it gets mangled in a crash.
Thank you for your feedback.
1 of 1 customers found this review helpful.
Classy looking bottle cage yet functional
I've used this bottle cage for a couple of months now and find that this cage works better than most cages because it fits my KleanKanteen better and it doesn't rattle.
The look was also one of the reason I bought this cage.
Thank you for your feedback.
Daily Commuter
New England
3 of 4 customers found this review helpful.
Good-looking cage that works well with stainless and other metal bottles
Bought one for my road bike. With a 30-min commute, I go on rides longer than an hour infrequently, so I wanted to just be able to use my everyday stainless insulated bottle (same size as Klean Kanteen). This lets me do that without marking my bottle up like an aluminum cage probably would. When I'm not carrying water, it's light enough for my taste and looks pretty good doing nothing.
May not recommend for someone trainingracing who needs to hydrate much more frequently than I do - the design is such that you can't tilt the bottle until it's pretty far out of the cage already - but if you're a serious roadie you're likely not looking at this anyway.
Thank you for your feedback.
Competitive Racer
lehigh valley pa
Cycling Enthusiast
Seattle, WA
Cycling Enthusiast
Detroit, MI
Daily Commuter
Sacramento, CA
2 of 2 customers found this review helpful.
Elegant, functional awesomeness
The Iris cage is sleek and sexy, and gently flexes to hold a variety of water bottles. I use stainless Klean Kanteen bottles, that rattle in other cages and are held securely in these. Made in USA, steel is real. LOVE these.
Thank you for your feedback.