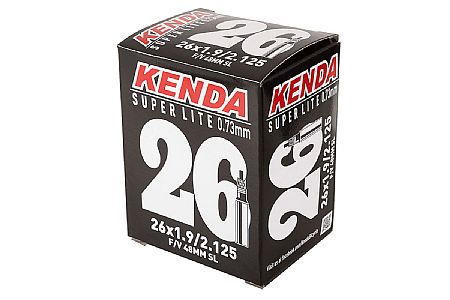 Cycling Enthusiast
Poconos, PA
Cycling Enthusiast
Abbeville, Al.
4 of 4 customers found this review helpful.
Just 2 very bad tubes
Bought 4 of these tubes at one time. Put first one on, rode 5 miles, BAM ! first one blew.
Second one put on in my living room. Left bike in living room. Wife and I were watching TV.
About 3 hours later BAM !. Hadn't even rolled my bike outside to ride it. Threw the other 2
tubes left in the garbage. Both tubes riped along the top seams. No more Kenda Superlight
26 Mountain Tubes.
K. Creed
Thank you for your feedback.
Cycling Enthusiast
Phoenix area
2 of 2 customers found this review helpful.
Problematic Performance
Resumed riding two years ago after lengthy layoff. Purchased several Kenda road tubes and several mountain bike tubes. Experience to date is that I never know when walking into garage morning after a ride if my tires will be full or flat. Upon repairing, I have found minute pinhole leaks along the tube seam. This points to poor quality raw materials, poor production control at manufacturing plant or inadequate product manufacturing specs. When I run out of tubes, I will switch to another brand. Tired of changing flats.
BikeTiresDirect.com Comments
John- Sorry to hear about your experience with the Superlight 26 inch tubes! This is the first we have heard of issues with this particular tube, and appreciate the feedback. Please give us a call and we will get you set up with a new pair of tubes! Derek
Thank you for your feedback.
2 of 3 customers found this review helpful.
Blew out on seams
A couple of these just randomly blew themselves up, both times right along a seam. Once just sitting in the garage and once right after a ride. Both were at about 60psi in tires rated 85 psi, so they weren't over-inflated. And they were on different bikes with different wheels and tires. I still have a couple others in tires with no problems, but I don't trust tubes where 2 out of 4 randomly kill themselves. I like the idea of light tubes, but I won't buy these again.
Thank you for your feedback.
Casual Cyclist
San Marcos, CA
2 of 2 customers found this review helpful.
Good tube, great price tag!
Bought to replace the stock tires & tubes on my antique Giant. Seems like a great tube, installed easy enough & holds air well. Thick enough I think to ward off flats. We'll see.!
Thank you for your feedback.