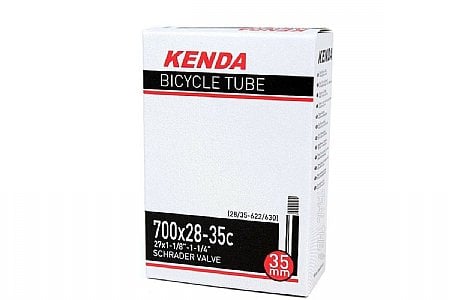 Cycling Enthusiast
Charleston, SC
Casual Cyclist
Kingston, RI
Old school Valves tubes for Old school bikes
These tubes at BikeTiresDirect are an awesome value. I prefer old schrader valves because my pumps work with them and I don't have to go out and buy a new attachment. I orders new tires and tube and these were a perfect fit and the price was great too. Since I saved as much as the price of these tubes on the tires I decided to get new tubes to go with my new tires. It was like I got the tubes for free. How can you beat that?
Thank you for your feedback.
1 of 1 customers found this review helpful.
Great quality and durability.
Installed a set of Maxxis Hookworm (UrbanCommuter) tires on my 2018 Trek Marlin 6. Finding the correct size tube was a bit of a challenge for these 29 x 2.50 tires but biketiresdirect had the correct Kenda tubes in stock. After recieving these Kenda inner tubes I noticed how well constructed they were. Since installing them I have had no issues with flats even when running lower air pressure. Great quality and durability!
Thank you for your feedback.
Casual Cyclist
Lawrence, KS
Cycling Enthusiast
Aurora IL