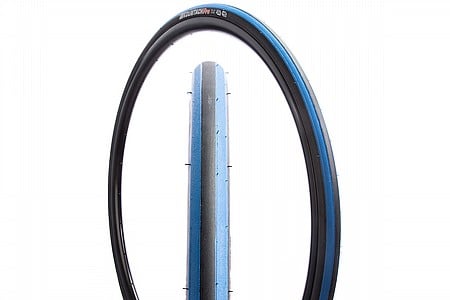 User submitted reviews
Review by DrSean

Cycling Enthusiast

Los Angeles, CALI

6 of 6 customers found this review helpful.

very sticky, but jimminy christmas they flat easily in urban settings

here's the deal - i rode on the Vredenstein tricomps for years and got maybe one flat for every 350-400 miles, not too bad considering i live in LA and even our mountain roads (of which there are many!) have idiots who throw glass out the window.

since loading on these kendas, i've had at least one flat EVERY SINGLE RIDE. no pinch flats, mind you, all punctures, some of which were ridiculously flimsy and tiny bits of metal. ugh.

the good news is they grip like a cheapskate on a dollar bill when cornering. very stable on technical descents, performed above average in wet conditions (yes, we did get some rain this year), but worth worthless in muddy roadways.

so. if you're running crits or on super clean roads, awesome grip, lots of cool colors. if you're riding where humans behave less than admirably with respect to trash, maybe not the best option ever.

and off to the dreaded gatorskins I go

Thank you for your feedback.
Review by Marquis

23 of 23 customers found this review helpful.

Light, fast, good feel, but cut way too easy

I have had these tires for a few months and a few hundred miles. They're fast and they feel good, but they are cut to pieces. Every little pebble that squirts away nicks the tires. Some of the nicks are through to the protective belt - I can see it. No flats, but I'm not exactly comfortable going into a downhill sweeper at 40mph on tires full of small holes. And I ride on generally good roads and off-street bike paths, so it's not like they're going over glass-strewn roads. I guess you could use these for just race days, but for regular use they are not durable enough.

Thank you for your feedback.