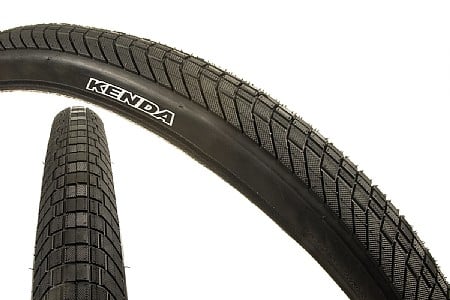 Cycling Enthusiast
Southeast Fla.
Cycling Enthusiast
BC, Canada
4 of 4 customers found this review helpful.
best streetpark mtb tire
Rolls fast with amazing grip on all surfaces except loose gravel. They are light and still very durable, and with the millions of micro knubblies all over the tread your tires feel as sticky as spiderman. No loss of traction on damp concrete and even metal. They are the best tires ive ridden for my style, better than schwalbe tabletops, maxxis dth or holy roller. Carve like mad.
Thank you for your feedback.
Cycling Enthusiast
Boston, MA
7 of 7 customers found this review helpful.
nice and huge. these tires are great.
I updated my daughter's Bontrager knobbies from her Trek bike to these - they fit perfectly and are much more appropriate for the street riding we do. But the added benefit is that even on gravel paths, she has much more stability that we do. These were a great purchase.
Thank you for your feedback.
Cycling Enthusiast
SF bay area
6 of 6 customers found this review helpful.
Durable tire, great price
I unicycle a lot, which means I do a lot of pivoting on a tire in the same spot. This can wear out a tire pretty quickly, a low-quality tire lasts about 3 months for me. I have dished out $40 dollars for more durable tires, which are great because they last about a year. The Kenda Kranium has the best of both worlds reasonably priced, and lasts at least a year for me. It's a little on the heavy side, but I expect that comes with the territory as far as durability goes.
Thank you for your feedback.
Casual Cyclist
Hickory Hills, IL
3 of 4 customers found this review helpful.
Great tire OEM replacemen tire for street and light dirt riding.
Great tire! Much better quality and construction than the no name OEM tires that came on my daughter's 24 mountain bike. These Kenda tires roll true and and are much smoother on the pavement than the cheap knobbies prior. My only gripe is that the sidewall printing on the tires doesn't match....it appears I got a new tire and a older tire. One tire says Kendatires.com on the sidewall and the other just says Kenda. Trivial, yes, but it's a detail that didn't go unnoticed when I was mounting the tires. This was the only thing keeping the purchase from being rated 5 stars across the board.
BikeTiresDirect.com Comments
Hi,
Manufacturers sometimes change their labeling without notice. We try to ship matching tires, but sometimes it doesn't happen for whatever reason. If you have any questions, please don't hesitate to contact us at [email protected]
Thanks, Stacia
Thank you for your feedback.