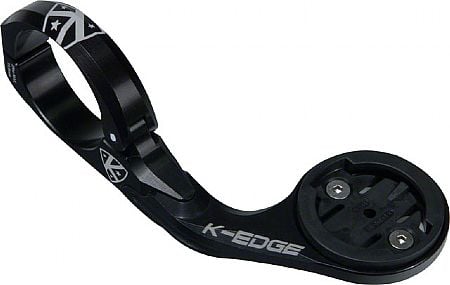 Cycling Enthusiast
Frederick, MD
Sleeker than Garmin's mount
I purchased this mount simply due to it being far less 'chunky' than the Garmin mount. It now has a K-Edge Combo Mount Adapter attached to it - I have the 520+ computer on top and a Varia headlight at the bottom. The only complaint I have with the setup is that it's difficult to access the charging port for the Varia while its attached to the bike (maybe I should have purchased the XL Mount).
Thank you for your feedback.
Cycling Enthusiast
EdmondsLynnwood WA
Love this mount.
Aside from being pricey it's a well made nicely finished mount and places my Garmin right where I want it. This newer design is great with the hinged clamp and a single bolt. I also like the twist in September tion is now plastic, before it was metal and wore down the tabs on my Garmin devices. I have a red and gunmetal colored mount and they go with any color scheme on the bikes I have owned. Sure there are cheaper mounts that do the same thing but someday I plan to use a Go Pro and I can switch out a part and have my Garmin on top and camera below. Can't do that with the other ones
Thank you for your feedback.