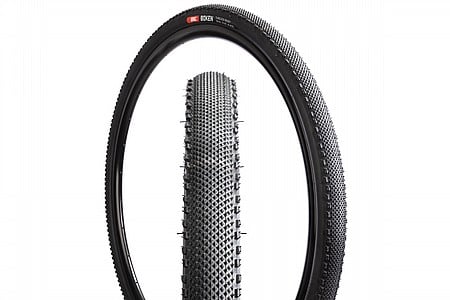 4 of 4 customers found this review helpful.
Fast and Supple
These tires are a little expensive but well worth the cost. The 700x36 is pretty spot on with the claimed weight and they measure just shy of 38mm on mavic all road pro wheels. On the pavement they are quiet, smooth and fast. On gravel they are grippy, fast and confidence inspiring in the curves. The tacky rubber compound does pick up more sand from the roads I ride but nothing major. They set up tubeless easily with a lezyne floor pump. So far they have very little wear with about 200 miles and I am hard on tires.
Thank you for your feedback.
Competitive Racer
South Florida
3 of 3 customers found this review helpful.
Better than expected
LBS put wider Boken on front (new gravel bike with OEM front tire not appropriate for S. FL. gravel rides) and really liked it so I ordered narrow Boken from BikeTiresDirect for rear. Set up tubeless-totally surprised how well they roll during road rides with a little extra air pressure. Really fast, grippy and comfortable on gravel with appropriate air for rider weight and tire size and still roll very fast on pavement sections during gravel rides with the appropriate air pressure for gravel. Originally set up rear without sealant and it held same air pressure for a couple weeks without adding air but was only doing road rides. First gravel ride (roots, rocks, sand & gravel) proved too much and started losing air. Added sealant to rear and has been rock solid ever since!
Thank you for your feedback.
So far my favorite tires for gravel bike
Rode the 42's for ~2000 miles on my 3T exploro with Zip 303R gravel wheels before they wore out from wear (rear first). Loved the compliance, the suppleness, the grip was great on the turns, and low rolling resistance. I favor suppleness to long-wearing as I have no suspension on my gravel bike and the tires do all the work. And I favor grip over rolling resistance as I spend more time on dirt than pavement. I have ridden Gravel Kings, WTB Byway, and Ventures, and Pirelli Cinturato's on this bike. The Boken were my favorite. 2nd would be the Ventures which had the best grip, but not quite as much rolling efficiency and not quite as durable. The Cinturato's are bulletproof, but they aren't supple at all making them have good grip, but not forgiving enough to bite into the dirt and hence they get loose easily which kills your confidence going into turns waiting for the slip to happen (you have to run really low pressure for them to get to that supple state). I'm interested to try the IRC Double cross next, but I think a set of Boken's will end up back on my wheels fairly soon.
Thank you for your feedback.
Competitive Racer
Portland, OR